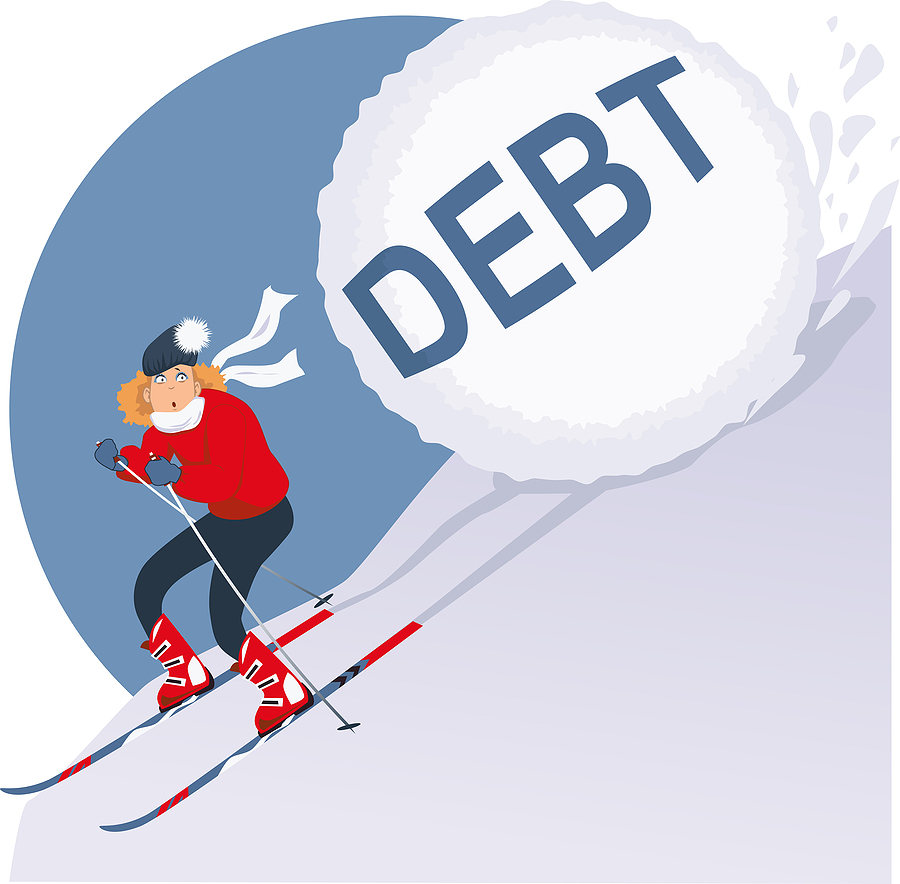 When you set your mind on a goal, you want to achieve it in the best way possible. What does "best" mean, exactly? That depends on the goal and the person. Here's an analogy: imagine you are training for a marathon. Naturally, you want to do your best. Well, for some people the goal is simply to finish the marathon (and what an impressive feat that is, to run 26.2 miles!). For others, the goal is to hit a certain time and break a personal record. Competitive runners may even aim for a top-place finish or hope to qualify for an elite-level race.
You get the point, our goals and therefore our ideas of what is "best" or successful in any situation, are somewhat dependent upon our who we are as individuals.
Financial goals work the same way. We all have different goals and we all have different considerations for determining a "best" way forward. That said, there are some goals that we can all agree are good to have and that we should all work toward. One of those is paying off debt.
While we can agree to the goal itself, there are definitely different ways to get there! Let's take a closer look at the two most common debt repayment methods so you can determine what's "best" for you.
The Debt Snowball vs. The Debt Avalanche
If you haven't heard of these terms before—the debt snowball and the debt avalanche—then let us explain. These are two different ways to approach debt. Both of these repayment methods are considered do-it-yourself (DIY) methods, because you can structure a simple repayment plan based on one of these methods and then self-manage your repayment.
As we hinted at earlier, these two approaches are essentially two different philosophies about the "best" way to pay off debt.
How the Debt Avalanche Works
The debt avalanche is a debt repayment strategy in which you pay off debts in order of their interest rate (from highest to lowest). Note: we have also heard this referred to as the "stacking method" and the "debt ladder." To be clear, when using this method, you still pay the minimum monthly payment on all your debts, but then you put all extra money toward the debt with the highest interest rate. Once that debt is paid off, you continue this method, moving to the next highest interest rate. Do this until you are debt free.
If that sounds simple, it is. The basic idea is that when you pay off the debts with the highest interest rates first, you minimize the total cost of your debt. This is therefore the most mathematically efficient way to pay off debt.
How the Debt Snowball Works
The debt snowball is a debt repayment strategy in which you pay off debts in order of their size (from smallest to largest). Just like a snowball starts small and rolls into something bigger, here you start with the little debts and work your way up. You pay the minimum monthly payments on all your debts, then put all extra toward the account with the smallest balance. Repeat this process until all debts are paid. As you pay off accounts, you eliminate monthly payments, freeing up even more money to put toward your next smallest debt.
This method is all about momentum and seeing your progress. Because you can knock out small debts first, you typically get to see results very early in the process. The con is that this method incurs more interest costs and is therefore more expensive over time than the debt avalanche.
Quick Summary of the Two Methods
To recap, here's a quick summary of the avalanche and snowball.
Debt Avalanche
Pay off debt with the highest interest rate first
Most efficient overall because it minimizes interest expenses
It may take longer than the snowball to pay off your first few debts
Debt Snowball
Pay off debt with the smallest balance first
Builds momentum and you can often see results early in the process
It costs you more in the long run compared to the debt avalanche
How to Pick the Best Method for You
If you are making a plan to pay off debt and need to choose which of these methods to use, there are at least three things you should consider.
Consider your financial personality.
Think about how each repayment option may align with your personality, financial or otherwise. If you are someone who is motivated by efficiency and embraces the fact that debt repayment is a long-term process, then the debt avalanche may be the perfect fit. You may be able to tolerate the fact that it could take longer to pay off individual debts at the beginning, and the interest savings would make it worthwhile to you.
On the other hand, if you like to see quick results and feel you need a spark or some low-hanging fruit to stay motivated, then the debt snowball may be the ideal solution. You won't mind the fact that your repayment is slightly more expensive in the long haul, because the sustained motivation is worth it to you.
Consider the amount of your debts.
Before you make a plan, be sure to map out all your debts. Write down how much you owe along with the interest rates. One thing to look out for is whether your debts all have similar-sized balances. If so, then that may steer you toward the debt avalanche, because there would be less benefit to the snowball. On the other hand, if you have a range of small debts to some larger debts, then the snowball may make sense.
Consider the type of debt you have and other options for that debt.
Similarly, consider the type of debt you have. This can impact interest rates, refinancing options, and even your motivation. As a general rule, credit cards are good to pay off because of their high interest rates. However, you may be extra motivated by paying off a student loan instead. That may lead you to consider refinancing the credit card while you pay off the student loan. On the other hand, maybe you are exploring student loan forgiveness, in which case you would choose to focus on the credit cards. The point is to make sure that your decision to choose the debt avalanche or debt snowball also takes into account the bigger picture and all of your financial goals.
As you can see, the "best" way to pay off debt is whatever way works for your situation and goals. The most important thing is to stay committed to whichever plan you choose, whether that is the debt avalanche or the debt snowball. Whether you are gravitating toward the efficient avalanche method or the often more immediately gratifying debt snowball, be sure to make this decision as part of a larger plan.
And speaking of plans, the NFCC's credit counselors are available any time to help you make a plan for your financial future. If you would like to review your budget, discuss your credit goals, or make a plan for getting out of debt, you can contact a credit counselor for a free counseling session today.
/