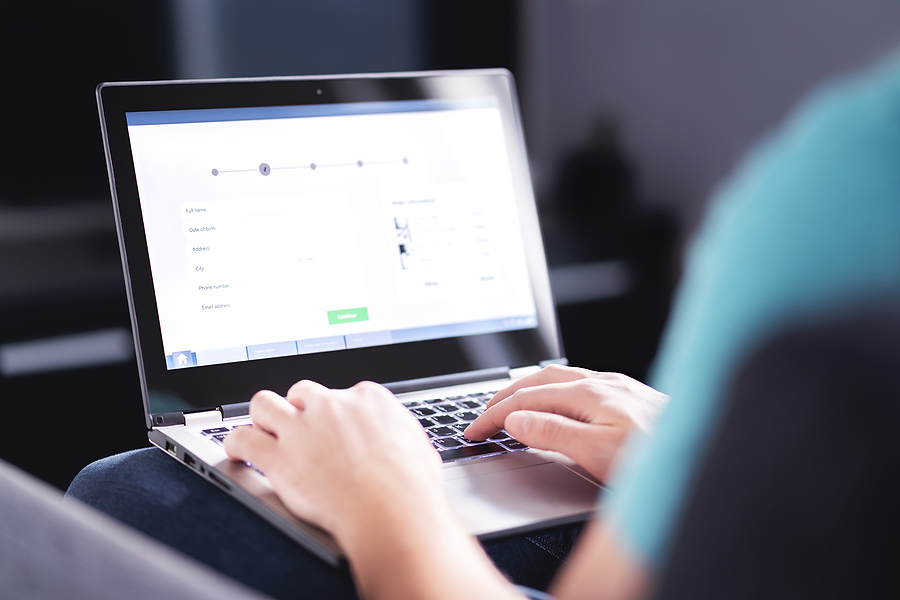 If you have enrolled in an income-driven repayment program (IDR) for your student loans, then you may want to take advantage of an option that can make your payments more affordable during times of financial difficulty. We are talking about optional income recertification. Whether you experienced a change in circumstances due to COVID-19, or a different economic setback, this may be extremely helpful to you.
Background
There are a few different programs under the IDR umbrella. Those are the income-based repayment plan (IBR), the income-contingent repayment plan (ICR), the pay as you earn repayment plan (PAYE) and the revised pay as you earn repayment plan (REPAYE). All of these plans use your income and family size to calculate your monthly payment, in an effort to ensure that your payments are affordable and that you can stay on track.
Your loans are not enrolled in these programs automatically. Instead, you have to apply, which you can do quickly on the IDR application page on the Federal Student Aid website. Alternatively, you can submit a paper application to each servicer by mail. Each plan has a different monthly payment calculation and timeline. However, forgiveness is available under all of these programs for balances remaining at the end of the applicable repayment period.
Once you're approved for one of these programs, you must comply with an important requirement. You must recertify your income and family size each year. Since these factors determine the payment amount, you have to report every year so that the new payment reflects any new changes in circumstances. Some changes will warrant a higher payment while others will cause your payment to decrease.
Recertification is very easy. To recertify for an IDR plan, you actually follow the same procedure as the initial application. You will simply resubmit the online or paper application, but you will select that you are "submitting documentation for the annual recertification of my income-driven payment" as the reason for submitting the form again.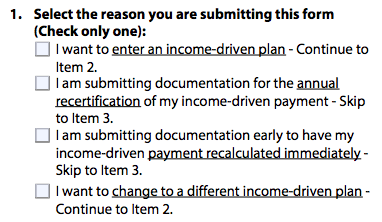 Screenshot taken from the IDR application, showing the various reasons for submitting the form.
Each year, your servicer should remind you to follow this procedure and make you aware of the deadline to do so. Failure to recertify in time will result in penalties, which can lead to higher payments, so you will want to file this in a timely manner each year.
Optional Recertification
So far, we have been discussing the required annual recertification. But what if you suffer an economic setback in the middle of the year, and your annual certification is still a way off? Luckily, you can recertify any time, which means you can have your payments adjusted in response to your change in circumstances.
You will follow the same exact process as when you complete the annual recertification, except you will select that you are "submitting documentation early to have my income-driven payment recalculated immediately."
You will follow the prompts and questions in the application and submit any required information. In many cases, you will need to provide recent tax returns or transcripts or you will need to submit a pay stub or letter from your employer showing your gross wages. It is very important that you take the form seriously and fill out the information accurately. By signing the form, you will certify that the information is "true, complete, and correct" to the best of your knowledge.
How Does COVID-19 Impact Recertification?
Millions of Americans have experienced a change in circumstances because of COVID-19. Should the pandemic cause you to recertify your loans on an IDR plan?
First, remember that federal student loans are in "administrative forbearance" until December 31, 2020. The CARES Act created this program, and no payments are due on federal loans through the rest of the year. This program also effectively delayed the annual recertification, so that no one needs to recertify until after December 31, 2020. Your servicer will notify you of the new deadline. See a more detailed explanation in the screenshot below, taken from the Federal Student Aid FAQ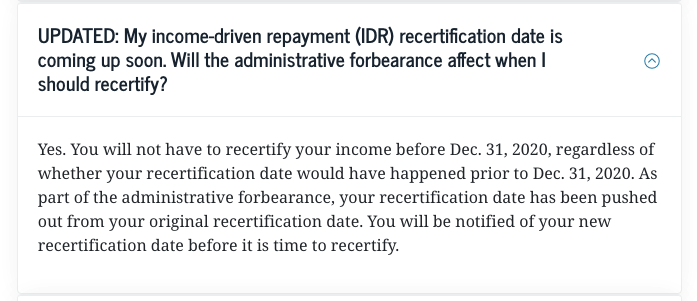 What about optional recertification as a result of changed circumstances stemming from the pandemic? There is no harm in submitting an optional recertification now. In fact, it is probably a very good idea to recertify before January 1 so that your payment amounts for next year properly reflect your economic situation.
If you have lost your job during the pandemic, or have experienced a reduction in income, now is a great time to apply for recertification.
Hopefully we have helped explain the recertification process, especially the optional recertification, which can make your payments more affordable when you experience a loss in income. If a loss in income is affecting your ability to pay other debts, like credit cards, then you may need help with those as well. Remember that our expert credit counselors are here to help, and can assist you with making a plan. You can get started with credit counseling today.
/