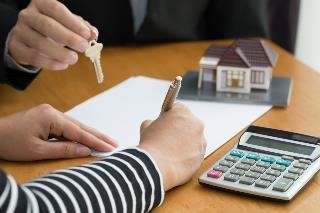 Conventional wisdom holds that buying a home is the best investment you can make, but despite rising rent prices across the country, many people are wondering if it's still smarter to buy. While a home purchase may not be the best choice for everyone, if you're focused on building a secure financial future, then the question of whether to buy or rent is a no-brainer.
 
Why It Pays to Buy
A recent study by GOBankingRates found that in most states, mortgage payments are lower than the cost of rent. However, even if you live in one of the few states where renting is cheaper than buying, there are other factors that you should consider.
While homeowners pay interest, taxes, and insurance fees that aren't required of renters, there are a number of tax deductions available to homeowners that make mortgages cost less than renting in the long run. Tax policies provide many incentives to buy a home and make homeownership a wise financial investment. You can deduct mortgage interest, mortgage insurance and property taxes from your income taxes at the end of the year. Talk to your accountant to get the full scope of your specific tax benefits.
Homeownership provides more budget stability than renting, putting owners in the best position to make sound financial decisions. Rents can — and do — increase as market values shift, making the cost of rent unpredictable. On the other hand, a fixed-rate mortgage won't change.
 
Payments made on a mortgage accumulate as equity in the home, making every payment an investment. On the other hand, rent payments carry no long-term benefit for the renter.
 
Unlike other investments such as stocks, bonds and IRAs, you can make a tax-free profit from the sale of your home. If you have lived in the home for a minimum of two years within the five years prior to selling the home, current tax laws allow you to exclude up to $250,000 of your profit from tax (or $500,000 for married couples filing jointly).
 
 
Buying a Home Is Still the Best Investment
Comparing homeownership to traditional investment options, such as stocks, bonds, and retirement funds is like comparing apples to oranges. However, if you're trying to decide between buying a home and investing in the stock market, the answer is simple: do both. Here's how.
 
Let's say you're choosing between purchasing a home at the national median sales price of about $320,000 or renting a similar home. If you purchased the home with a 5 percent interest rate on a 30-year fixed loan, the loan would cost you roughly $19,139 in interest and fees over the course of the first year (excluding the amount you'd pay toward the principal). If you were to rent a similar home at the common rate of approximately 1 percent of its value, you would pay about $30,720 annually — about $11,581 more than the mortgage would cost, and without the benefit of building equity in the home with each payment!
If you live in it, a home purchase won't generate a return until you sell, but that doesn't mean it's not an investment. In the short-term, you may be able to make more money in the stock market than you can by taking out a mortgage. But in order for higher-yield investments to make more financial sense than buying a home, your stocks would have to generate a return greater than the difference between the cost of your home loan and the cost of your rent.
The Bottom Line
If you're focused on the steps you need to take to build a future of financial freedom, then purchasing a home is a great start. If you can afford to pay more for a rental, then it may make financial sense to purchase a primary home and invest the difference.
About the Author:  Robert Kociecki is a real estate industry expert who serves as the Senior Vice President of Property Management and Renovation at Altisource. Altisource and its affiliates provide real estate services for consumers and investors. Visit Owners.com, where home buying and selling is made simple.
Tuesday November 27, 2018
/