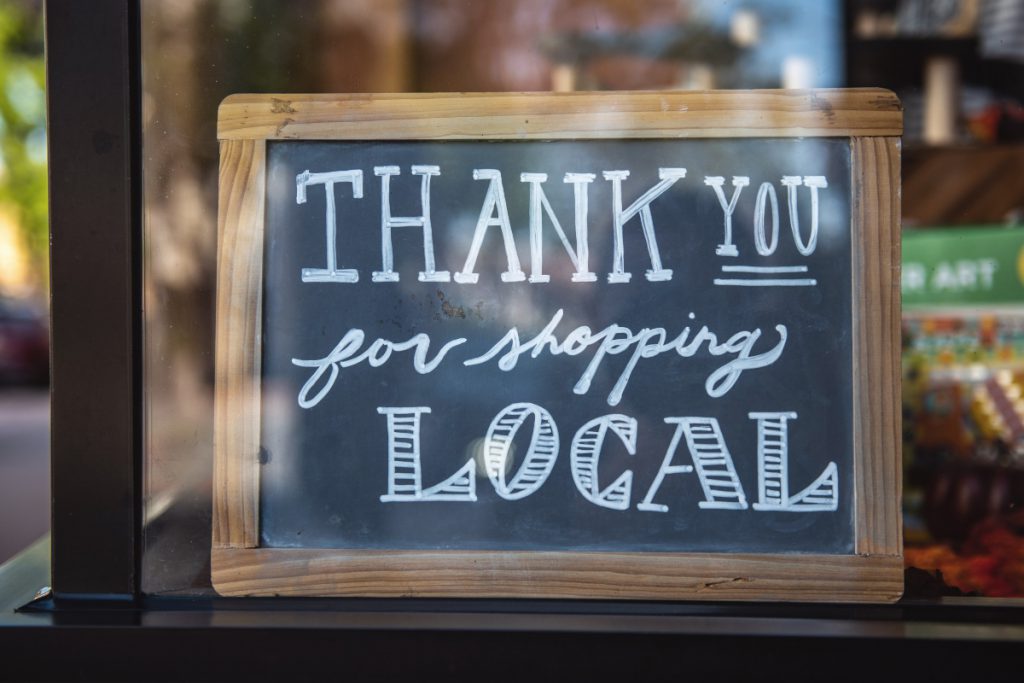 Approaching your holiday shopping with an intention to support small business owners can have a massive impact on your local economy and the well-being of your community—including you. Plus, it will mean you get access to the unique, tailored offerings that small businesses boast. Here is your guide to the why and how of shopping small this holiday season.
Why supporting small business owners matters
Shopping small reinvigorates local economies. American Express found that around 67 cents of each dollar spent at a small, local business remains within your local economy. Even better? Forty-four of those cents go to the small business owners and their employees' wages. That means shopping small directly supports your neighbors' income and even creates local jobs.

Shopping small this holiday season has even more practical benefits. Particularly, doing your holiday shopping with small businesses is much better for the environment. By nature of shopping locally, you'll be doing less driving—bonus points if you bike, carpool, or take public transit to do your holiday shopping at a small business. Even more, shopping at small businesses with locally sourced goods means fewer resources spent on shipping your purchases.

Finally, supporting small business offers significant upsides for you, the shopper, too. Specifically, you can access unique and bespoke treasures from small businesses in your town. Avoid the lackluster, one-size-fits-all selection that big boxes offer, and access something special from your neighbors by choosing to shop small this year.
How to support small business owners
You know the why, now let's get down to the how. Supporting small businesses during the holidays is pretty simple, but going beyond the average shopping trip will increase your impact all the more. Here are five simple, effective ways to support small business owners this, and every, holiday season:
Shop small—on any day
Don't wait for a specific day or season to decide to shop small. Shift your routine errands—like grocery shopping, house tidying, exercising, and even filling up your tank—to small businesses in order to support your neighbors who run them.

After all, the holiday season will likely be costly for small business owners and their employees, too. Taking care of your day-to-day purchases with small businesses can help support small business owners and their team members as they too face the onslaught of spending that the holidays so often entail.
Skip Black Friday
Skipping Black Friday is yet another way you can support small business owners. Plus, it's remarkably easy to avoid the hoards of shoppers that big box stores and massive chains fill up with on Black Friday. Do small business owners—and yourself—a favor, and avoid Black Friday shopping. You'll skirt the crowds and the temptation to cash in on deals.
Show up on Small Business Saturday
You can take all of the shopping you were doing to do on Black Friday and reschedule it to the very next day—Small Business Saturday. This American Express-founded day of celebration is now a nationally recognized holiday that provides a small business answer to Black Friday. Small businesses in your town will likely be going all out—think special events, exclusive offerings, and one-day discounts—for this day. Show up and shop to support their efforts.
Avoid eCommerce
Another common temptation the holiday season tends to entail? The ease of filling up and eCommerce cart and making massive purchases with the click of a mouse. It's an enticing thought, shopping in your pajamas from the comfort of your own home. But shopping with huge online businesses and having goods shipped to you will have a negative environmental impact.

Even more, it will divert your spending outside of your local economy. Take the time to change out of your pajamas and make your way to your favorite small business—the holiday cheer, unique offerings, and the community environment will make you happy you did.
Get the word out
Finally, getting the word out about small businesses this holiday season will cost you nothing at all, and it will have a huge impact on your favorite small business's revenues.

Leaving positive, detailed online reviews of your favorite local businesses could be more effective than even the smartest marketing campaign—after all, 97% of people read online reviews for local businesses, and 93% say that online reviews impact their purchasing decisions.

You should also consider posting about your favorite small business on social media and recommending them to friends and family. Followers, friends, and loved ones who are on the lookout for unique gift ideas will thank you, and, of course, small business owners will, too.
Supporting small business owners: Final thoughts
You're familiar with how to support small business owners this holiday season—and you're familiar with why these efforts are important. All in all, every dollar you spend with a small, local business rather than a huge, multinational corporation will more directly impact your local community. Ultimately, your spending will stay closer by in the form of workers' wages, vendors' fees, and a more vibrant local economy.

Plus, your spending will have a greater proportional impact for lower-volume businesses. Amazon and Walmart won't miss the revenues they lose from your shopping small, but the money you spend with local businesses will make your neighbors' holiday season that much brighter.
Wednesday November 27, 2019
/