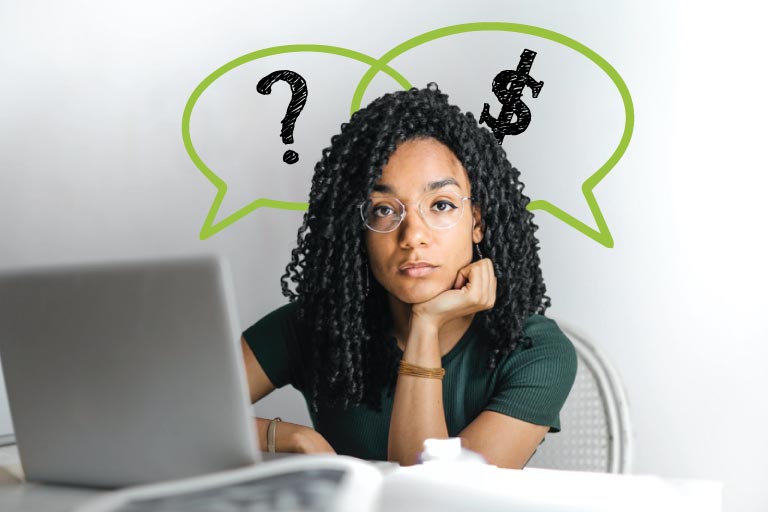 The NFCC often receives readers questions asking us what they should do in their money situation. We pick some to share that others could be asking themselves and hope to help many in sharing these answers.
I have tried to figure out how to navigate student loan debt relief programs on my own with no luck. A couple of years ago, I started using a company called "My Education Solutions" and they were able to reduce my loans from like $130,000 to around $30,000. My monthly payment was also much more reasonable than what "Nelnet" was demanding of me. I can't afford to pay anything back right now. I'm only breaking even at the end of the month if I'm lucky. Am I doing this the right way?
I recently saw that "My Education Solutions" was involved in a lawsuit and that they had been rated poorly by the Better Business Bureau. I pay a $50 service fee and then around $280 total to pay down the loan each month. I don't know who to ask, or who to trust. Are you able to help me with any of this?
Dear reader, many consumers turn to student loan debt relief companies precisely because it's challenging to find help to deal with mounting student loan debt. If you have private loans, you are limited to what your financial institution offers. However, there are many programs to choose from if you have Federal Student Loans. Understanding student loan debt relief and qualifying for these programs is often daunting. Companies like My Education Solutions claim they can navigate those waters for you for a fee. Not all debt relief companies are scammers, but there are many bad actors. Others are simply for-profit companies, which means that you will be paying them to do something that you can do for free.  
Spotting the Red Flags 
It's essential to identify the red flags when dealing with student loan debt relief companies to protect yourself. You have a genuine concern about working with My Education Solutions. In addition to the poor Better Business Bureau rating, the lawsuit filed by the Texas Attorney General in 2020 alleges that My Education Solutions was charging unfair monthly service fees, misrepresented customers' savings, and failed to make on-time payments on customers' student loans. If you think you may be affected by one of these allegations or want to discontinue their services, notify your loan servicer and revoke their access to your account. Then, call My Education Solutions and terminate your service with them. Make sure you take over the payments and send them out on time so you don't fall behind during this transition. Here are some things to look for: 
– The company charges upfront fees. Although it's legal for debt relief companies to charge fees for their services, it's illegal for them to do so before they have helped you. 
– They promise too much, like instant forgiveness, and persuade you to sign up with them fast. It's unlikely for borrowers to get immediate relief for large amounts, so review your loans and verify the accuracy and validity of the $100,000 you say were forgiven. 
– They ask for your Federal Student Aid ID and password or that you sign a power of attorney. There's a potential for fraud when these companies have access to sensitive information or when you sign a power of attorney. If that's your case, immediately change your login credentials, revoke their power of attorney by contacting your loan servicer, and contact your bank if you are suspending any ACH payments from My Education Solutions.  
Finding the right resources 
Your loan servicer is the most accurate source of information about your loans. So, reach out to them if you need details about your current repayment program. Also, if you need to change your plan because you are having trouble making payments, contact them and inquire about the programs available to you at this point. You can change payment plans at any time, free of charge. You can also call the Federal Student Aid Information Center at 1-800-433-3243 or visit StudentAid.gov. 
If you don't feel comfortable working with your servicer or feel you need more assistance, I recommend working with an NFCC certified nonprofit student loan counselor. The difference between these agencies and other for-profit debt relief companies is that they offer trustworthy help for a fraction of the cost and will always have your best interest at heart. They will never ask for your FSA ID or send payments on your behalf. Their counseling session aims to teach you how to deal with your student loans, understand your options, apply for the programs, and manage your overall financial situation. They will also keep you up-to-date with new policies and how they can affect student loans, like the recent changes on the forgiveness programs and the end of the COVID-19 emergency relief on January 31, 2022. 
You have started to mistrust My Education Solutions with your loans, indicating that you have noticed some red flags. You came to the right place to ask for assistance. The NFCC nonprofit counselors are available over the phone, calling 1-800-388-2227, online, and in-person where available. Don't wait; get the information and help you need today. Good luck! 
/