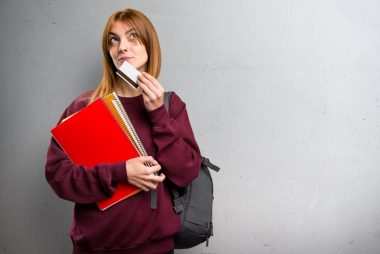 For many students, college is the ideal time to try new things and take on new challenges. One important challenge to consider taking on while in college is that of establishing and building your consumer credit profile.

Not only will most people benefit from having a solid credit history when they enter the workforce, but college students are eligible for student credit cards, which can be one of the best ways to establish credit when used wisely.

Of course, as with any financial product, student credit cards have their ups and downs, and you should be familiar with both the pros and cons before you sign up for a new credit card.

The Upsides to Student Credit Cards

Let's start with the good stuff. Student credit cards have a lot of upsides, not the least of which is their utility for establishing your credit.

In addition to reporting to all the major credit bureaus, student credit cards are pretty easy to obtain (so long as you meet the CARD Act requirements of being over 21 or having an independent income or cosigner). Issuers expect students to lack a credit score or long history, and they build that expectation into their underwriting algorithms.

But where student credit cards really shine is when they're compared to other types of starter credit cards intended for people with no credit or limited credit histories.

For one thing, student credit cards also tend to have very small annual fees, if any; most student cards won't charge an annual fee at all. You can even find several competitive no-annual-fee rewards cards just for students.

Students can also find cards with special perks or bonuses designed just for them, like a statement credit for getting good grades or a waiver for the first late payment fee. Plus, many student cards won't charge a penalty APR if you miss a payment, which can be a big boon for students just learning to track their monthly payments.

The Downsides…

All in all, the main downsides to student credit cards are the same as those to any credit card, which makes the major downside to student cards the interest fees.

While student cards typically don't have the close to 30% rates of, say, subprime cards, they likely aren't going to offer interest rates below 15% that you'd see with excellent credit, either. (The exception here is credit union cards, which tend to have much lower interest rates, on average.)

The other big downside to student credit cards — and credit cards in general — is the potential for misuse. Credit cards are easy and convenient to use for any number of purchases, which also makes them easy and convenient for collecting debt if you're not conscientious about your card use.

On the plus side, most credit card issuers these days provide easy-to-use mobile apps that let you track your transactions, and many apps will include tools for setting custom spending alerts. You can also use third-party personal finance and budgeting apps to keep on top of all your cards and accounts in one place.

About the author: Ashley Dull is the Finance Editor at Digital Brands, Inc., where she oversees content published on CardRates.com and BadCredit.org. Ashley works closely with experts and industry leaders in every sector of finance to develop authoritative guides, news and advice articles with regards to audience interest. 
Friday September 21, 2018
/