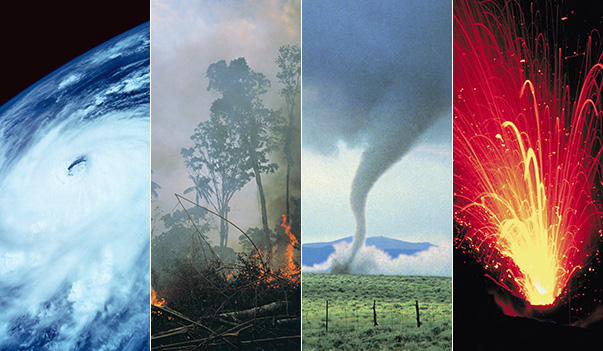 Natural disasters have the potential to be life-changing events. Even if you haven't lived through one, you have likely seen the impacts they can have on communities and individual lives. Far too often we encounter stories of forest fires, major floods, earthquakes, and the like, and the victims of these disasters who are forced to rebuild their lives in the wake of the damage.

If this happened to you, would you be prepared, and would you know how to limit the financial impacts?
Preparation
We are all at the mercy of mother nature, which means that we cannot directly prevent natural disasters. But we can prepare for them. Not only can we prepare for the physical aspects – having an emergency food kit on hand, boarding up windows before a storm, etc. – but we can also take certain steps financially to make recovery easier and mitigate damages.

Carefully Consider Your Insurance
Insurance plays a huge role in determining the eventual impact of a natural disaster. While it would still be a life-altering event to lose an asset, or suffer extreme damage to an asset like your home, having insurance coverage could eventually "make you whole" such that you don't suffer a major financial setback.

Typical homeowner's insurance policies cover many natural disasters, but not all. As Bankrate explains, a standard policy would cover losses "caused by explosion, fire, lightning, hail, windstorm, hurricanes, tornadoes, extreme cold, volcanoes and theft" but would not cover "earthquakes, floods, tsunamis or nuclear disasters."

Be sure to familiarize yourself with your insurance policy to understand what is covered. Compare this to the risks you are most likely to face and consider extra coverage. Notably, flooding is the most common natural disaster in the United States. While you are required to have flood insurance if you have a federally-backed mortgage and live in a flood zone, you might also consider insurance if don't meet those criteria.

Consider Preventative Maintenance and Repairs
Particularly in the case of flooding, there may be preventative steps you can take to mitigate flood damage to your home. These steps range from simple maintenance to major overhauls. FEMA has published guidance on this point.

Organize Financial and other Critical Documents
A natural disaster leaves a path of destruction. You don't want that to include your most important personal and financial documents. Ensure that your important documents are protected, such as in a fireproof and waterproof box (safe). Additionally, you may want to create digital backups of your important documents and store them safely in the cloud.

Among these documents, it may also be helpful to keep a list of contact information for banks and any other financial accounts and your insurers. In the midst of an emergency, communication with these parties can be very important. Regarding creditors in particular, proactive outreach can help you explain the situation you are facing and enroll in any arrangement the creditor is willing to provide in response to the natural disaster
Recovery
Recovery from a financial disaster relates to many of the steps above that you take in preparing for a disaster. Things like following up with your insurance company, and making arrangements with creditors can go a long way to helping you recover most quickly while minimizing negative impacts. Not taking these steps can drag out your recovery and potentially leave you burdened with additional debt.

Every situation is different and the most significant consequences of a natural disaster, like being displaced (losing your home) or suffering significant bodily injury, can make the fallout more severe, and the recovery more significant and complex.

Hopefully these tips will help you at least make an initial plan for natural disasters, but living through one will always be difficult and pose unique challenges, financial and otherwise.

If you would like more guidance about the impacts of a financial disaster to your personal financial situation, or need help recovering from a natural disaster that caused or worsened your debt, our credit counselors are able to help. Contact an NFCC-certified credit counselor today for a free session.
/