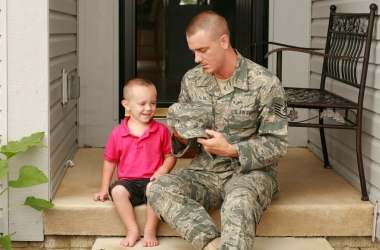 There's a strong case to be made that service members and veterans speak in acronyms and abbreviations better than any other group — they even seem to enjoy it at times.
But terms like GFE, MPR, and APR[*] can still sound like frustrating gibberish if you're new to homebuying. Add VA loan eligibility and processing to the mix, and the idea of homeownership can cause major confusion for even the most decorated veteran or service member.

Below are six tips to consider as you explore buying your first home with VA or military benefits.
Start with a preapproval letter. Going through the process of both basic prequalification and written preapproval by VA will not only help you set a realistic budget for your home, but it will give lenders, realtors, and sellers confidence that their money and property will be in safe hands. You want to be a customer they can trust.
Include the extras in your budget. When setting your ideal purchase price and monthly budget, remember that your VA loan will need to cover recurring expenses for insurance, property taxes, maintenance fees, and other costs. VA also takes your residual income seriously when approving loan amounts, so you can expect the question of your debt and other non-home-related expenses to come up. Be prepared by crunching the numbers in advance.
Don't be afraid to shop around. VA loan rates will vary slightly among lenders. Compare at least three quotes before signing — a best practice, estimated to save home-buyers $3,500 in the first five years. Also, know that credit checks by multiple lenders are treated as a single pull if they occur within a one-month period. So don't worry about the effect on your credit score of comparison pricing, as it will show only a one-time dip of a few points.
Find a real estate agent with VA experience. VA's home appraisal process can be tricky to navigate, especially if you're keen on buying a fixer-upper or pursuing new home construction. Before hiring an agent, ask about their history with military and veteran clients. Asking your friends, networks, or a trusted financial counselor for referrals can also be a smart strategy.
Consider a power of attorney. If you or your military spouse plan to be out of the country for an extended period of time, make sure each of you is legally able to take action on home- or loan-related matters in the other's absence. A power of attorney is an option to consider for this situation.
Remember that VA loans are a "forever" benefit. The VA home loan is not just for your first home. In some cases, you can even use it to finance more than one property at the same time. Even defaulting on a VA loan does not affect your eligibility to obtain one in the future. You've earned the benefit through your service, and you can keep it and reuse it forever.
Once you're ready to learn more, start a conversation with a certified housing counselor in the NFCC network.

[*] GFE is "good faith estimate," or an estimate of the closing costs, settlement charges, and loan fees due at the closing of a home loan. Lenders are required by law to provide a GFE within three days of loan application.
MPR is "minimum property requirements," or a list of requirements that a home must meet in order to qualify for a VA loan.
APR is "annual percentage rate," or a broad measure of the cost to you of borrowing money. APR reflects not only the interest rate but also any points, mortgage broker fees, and other charges that you pay to get the loan.

/