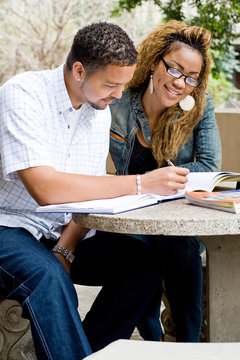 The idea of student loans can be daunting, especially with the costs of education at historic heights. If you are already in the process of paying your loans, your monthly payment can be a stressful task that doesn't feel like it's making a dent in your overall balance, and, even if you have not yet begun to pay, the idea of paying off a student loan can be overwhelming. As a student myself, I'd like to offer my peers, including those who have already graduated and those who will graduate soon, a few tips on paying off your student loans that will help make the process as easy as possible.
Know Your Lenders
You should be very familiar with your lenders, especially if you have both federal and private loans. The policies of federal and private lenders for repayment plans, interest rates, loan forgiveness, and many other details will be very different. Therefore, you will want to have detailed knowledge of the policies of each of your lenders. When you understand these policies, you will be able to better plan for how you can pay off your loans because you can differentiate loans that will be better to pay off quickly from those that have a higher possibility for forgiveness in the future. For example, many federal lenders will have deferment or forgiveness programs that private lenders do not offer, and it is often better to pay off private loans first because they usually have higher interest rates and more severe penalties for delinquency. Without the general knowledge of your lenders, you may fall into avoidable financial trouble or end up paying more than necessary on your loans.
Organize Everything in One Place
If you have more than one loan, it is vital that you can organize them and have easy access to the deadlines, balances, monthly payments, and any other pertinent information for the loans because it is remarkably easy to confuse or forget about any of your loans' specific details. These tools can be your own simple spreadsheet or an online tool that puts everything together for you, depending on how much time you want to dedicate to organizing. But even if you are consistently on top of your loans from month to month without having all the details in a single location, it is still a good idea consolidate everything to one place because any mistake could cause you to fall behind on a loan, and just one missed payment can hurt your credit.
Keep Track of Your Finances
Similarly, you will want to keep your entire budget organized so you can see how much money you are spending compared to what you have saved and are earning. Though you should be doing this regardless of student loans, it should be a centerpiece of how you manage your loans because it will tell you where you stand financially. It will put your entire financial picture into perspective so that you can more easily know where your money is going, which will help you pay off your loans and know exactly how much you have for additional discretionary spending. With this help, it is much easier to anticipate and take care of financial problems before they occur.
Don't Be Afraid to Ask for Help
Lastly, no one will have perfect financial success in their life. There will be hiccups and bumps in the road that cause stress and make it difficult to stay on top of your loans. If you are falling behind on your loans or fear that you might fall behind soon, talk to someone who can help. There are many people you can talk to if you need help. Your family and friends will likely be willing to give advice or lend a hand if you need it. Also, you may want to speak with a financial counselor from an NFCC member agency. These counselors will help you figure out your options and how you can get back in control of your finances because they are there to help you be as financially healthy as possible. If you find yourself in danger of falling into financial trouble, there are people who can and will help you get back on your feet so you don't have to face the problems alone. And if you combine all of these tips for paying off your student loans in your loan repayment plan, you'll be able to conquer your loans and live a life free from pesky student debt.
/