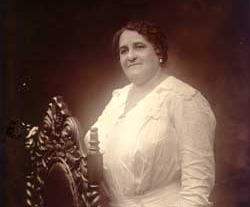 To honor Black History Month here at the NFCC, we are taking a closer look at some of the major contributions made by African Americans in the areas of economics and finance. Today, we will explore the story of an incredibly important influencer, Maggie Walker.
Her Story
Maggie Lena Draper Walker was born in Richmond, Virginia on July 15, 1867. Her mother was a former slave, and her father was an Irish-American abolitionist and journalist. Due to laws at the time—which would stay on the books in Virginia until 1967—her parents, being a mixed-race couple, could not legally marry. Her mother would later marry William Mitchell, and the two had a son—Maggie's half-brother, Johnnie.

The family suffered a major tragedy when William died in 1876. Without a father in the home, the family would face emotional and financial challenges. Maggie rose to the occasion. She attended public school and graduated in 1883. She went on to become a teacher for several years until she was married, and she would go on to have four children of her own. You could end the story right there, and Maggie Walker's life would have been a success by all accounts.

But she was nowhere near finished. While she had been a student, she joined the Independent Order of Saint Luke, a mutual benefit society. This organization played a critical role in the community, caring for the sick and assisting with burial arrangements.

After Maggie's teaching career, she focused much of her time and energy on her work in the Independent Order. She held many positions within the group over the years and was eventually elected Grand Secretary. She inherited an organization in serious financial trouble, but her leadership helped reverse the course.

She expanded the membership rolls and helped establish a presence in over twenty states. She also ensured that the organization would have more than enough in financial reserves. With this solid financial footing, Maggie accomplished her greatest feat. She chartered the Saint Luke Penny Savings Bank in 1902 and served as its president. She famously said:

This initiative was a huge success. For example, one of the bank's goals was to finance African American homeownership. By 1920 the bank had financed 645 African American homes in the Richmond area. As the Wall Street Journal explains, this was particularly impressive given the fact that many black consumers did not trust banks after the failures of the Freedman's Savings Bank, which collapsed and caused many African Americans to lose their savings. Walker was able to build confidence in the institution she created, and by 1920, the bank held assets worth about $7 million in today's dollars.

The bank would survive many financial challenges, including the Great Depression, albeit in a different form. It merged with other African American financial institutions to become the Consolidated Bank and Trust Company in 1930. Walker then served as the chairman of the board. The bank would go on to become the longest continuously operated black-owned bank until it was acquired in 2005.
Why Her Story Still Matters Today
Maggie Walker was both the first African American woman to charter a bank and the first African American woman to serve as a bank president. Her legacy lives on today because of how, through her dedication and commitment, she achieved her goal to provide a much-needed service and become a pillar in her community.

Her story reminds us of the importance of financial inclusion, and that much work remains to be done today. Even in recent times, black communities have not experienced financial prosperity to the extent that they may have with more inclusive policies and practices. As the Brookings Institute puts it, "Wealth was taken from these communities before it had the opportunity to grow." In fact, this is so pervasive, that the median wealth of black families is in a worse relative position to white families than it was even twenty years ago, a sign that this problem is enduring.

There are many reasons for this. One is that predatory lenders have "flooded minority communities with toxic loan products." When these companies offer payday loans and other such products, they often prey on a lack of education and a lack of better options. The problem perpetuates and can become generational. Payday loans are notorious for presenting borrowers with a vicious and seemingly endless repayment cycle. Such a cycle means there is less extra money to put toward other needs or to use toward financial milestones. This can have a ripple effect for a borrower's children and grandchildren, and to make it worse, predatory lenders are targeting Generation Z directly.

We can only imagine how much of a difference it would make for all communities to have access to safe and affordable financial institutions, much like Maggie Walker envisioned. Thankfully, there is significant momentum behind black-owned banks right now, which should spur growth and inclusion in underserved areas. The availability of products and services will be an indispensable asset to individual communities and our country as a whole. Availability is critical, but so too is awareness. And for that reason, we all must do our part to educate each and every consumer about the types of financial resources at their disposal and the basics of household budgeting.

With smart policy, reasonable and affordable products and services, and educational resources in all of our communities, we will be poised to achieve real progress toward economic equality and a fair playing field. Maggie Walker took a giant step toward this goal and set a tremendous example for future financial institutions to follow.

Tuesday February 23, 2021
/