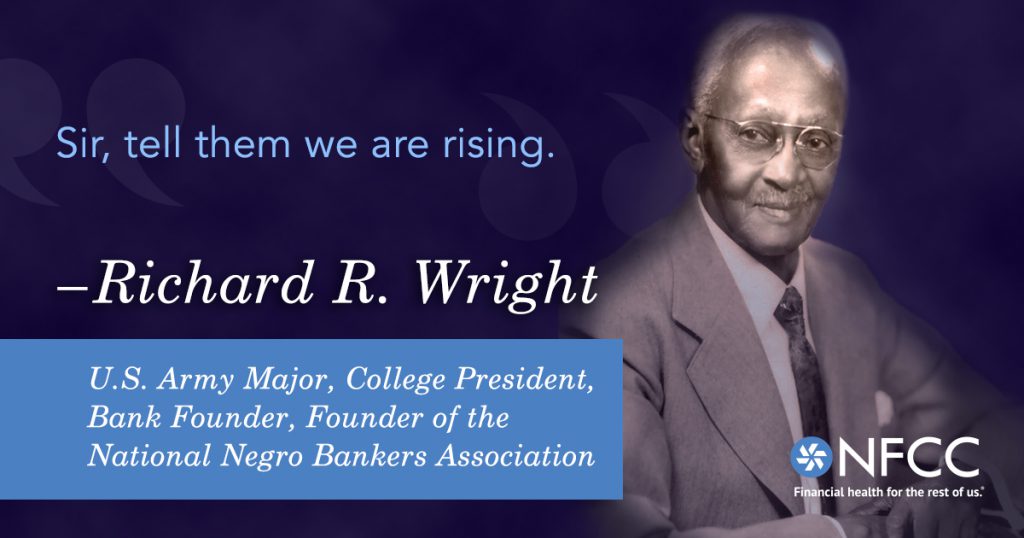 The NFCC is taking a closer look at the stories of famous African Americans who were influencers in the areas of economics and finance, as part of Black History Month. Today, we consider the life and accomplishments of Richard R. Wright.
Background
Black History Month is an important time for reflection on the great accomplishments of African Americans, but also a time to look forward and continue pushing for progress and a fair playing field for all. Believe it or not, we might not have Black History Month as we know it today if it were not for the persistence and dedication of Richard Robert Wright. Born a slave, Wright would go on to have an illustrious life and career. He is responsible for founding Freedom Day, which is celebrated on February 1, the anniversary of when Abraham Lincoln signed what would become the 13th Amendment. The holiday, still recognized today, was a precursor to Black History Month.
His Life
Richard R. Wright made many contributions to American society beyond the establishment of Freedom Day. He served as a major in the U.S. Army. He was both the first African American to be appointed to the role of paymaster in the Army, and he was the highest ranking African American officer in the Spanish-American War. A long-time Georgia resident, Wright was also a college president for the institution that would later become Savannah State University. He was also a founding member of the American Negro Academy, an African American scholarship organization, with notable members including Alexander Crummell and W.E.B Du Bois.
Despite already having an impressive resume, one of Wright's biggest accomplishments came later in his life. He moved his family from Georgia to Philadelphia, Pennsylvania in 1921, when he was 67 years old. There, he took classes at the prestigious Wharton Business School to learn more about banking. Then, he founded a bank—Citizens and Southern Bank and Trust Company. He also founded the National Negro Bankers Association, an organization that still lives on today as the National Bankers Association (NBA).
Why His Legacy Matters
Richard Wright left behind a long list of accomplishments, and his influence was far-reaching. Much like Maggie Walker, he founded a financial institution that provided a much-needed boost to the local African American community and continued to do so beyond his lifetime. Education was also an important theme in his life, and his son and grand-daughter would go on to earn PhDs from the University of Pennsylvania. Activism and progress were key initiatives for him as well, and he had a hand in the desegregation of the military, and of course our continued celebration of black history, among other achievements.
Richard Wright's legacy also lives on through the work of the National Bankers Association. And, importantly, the work of the National Bankers Association demonstrates that much more progress should be made in strengthening the financial standing of the African American community, and ensuring equal opportunity for all. The group was created to bring together all black banks for the purpose of "consultation, cooperation, and information exchange." Wright said, in 1927, that the organization was a "serious attempt to dignify our banking, to organize our banks for bigger and better business and for mutual protection." The organization and its mission lives on today. In recent times, the National Bankers Association has done much work to bring light to the issues surrounding black homeownership, which has lagged significantly even since the passage of the Fair Housing Act, due to systemic issues that go beyond the problem of redlining.
Certainly, Wright would applaud these efforts. And based on the central role education played in his life, he would also likely support the goal of improving financial literacy in black communities more generally. The National Urban League (NUL) defines financial literacy as "combining financial knowledge with attitudes, skills, and behaviors, which are essential to make a financial decision based on personal circumstances." The NUL points out that there has been a significant disparity in financial literacy between minority and white communities. However, it also acknowledges that the very definition of "financial literacy" must be reconsidered in light of what we know about structural racism and obstacles to financial progress.
Richard Wright once famously said, "Sir tell them we are rising." This work of ensuring that the African American community—and all minority communities—can keep rising falls on all of us who provide financial services or resources. We must recognize that much progress remains ahead of us. We must emphasize the importance of education, the financial variety and otherwise. And, we must be prepared to reimagine fundamental concepts in response to forces at play in our broader society and economy. If we can do these things, we will be well on our way to honoring, and continuing, Richard R. Wright's legacy.
Thursday February 17, 2022
/