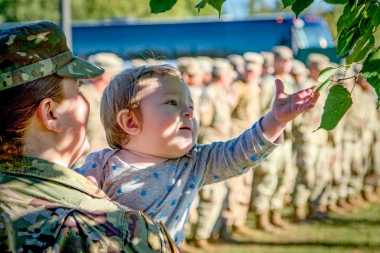 Cue the first line of lyrics from The Clash's 1982 hit song, Should I Stay or Should I Go! For eligible service members who haven't already made their decision regarding whether to stay in the Legacy Retirement System or go into the new Blended Retirement System, that is the question. And the countdown to decide is on.
Eligible service members who are still unsure have until Dec. 31, 2018 to make their selection, which is a big financial one-size-does-not-fit-all decision that has equally big implications on their military retirement.
But rest assured, you, the undecided service member, do not have to make this decision alone!
 
Here is a five-step checklist to help you get organized, take control, and know exactly what you need to do to make the best decision for you and your family:

Five-Step BRS Checklist to Success Explained
Step 1: Determine your eligibility.
If you haven't already, the first step in considering the BRS is to determine whether or not you are eligible for it.
It's important to know that all service members serving as of Dec. 31, 2017, are grandfathered into the current Legacy Retirement System and will not be automatically moved to the BRS.
If you wish to move to the BRS, you will need to "opt-in" during the one-year opt-in period before Dec. 31, 2018.

Step 2: Take the mandatory BRS Opt-In Course.

To ensure service members fully understand their retirement plan options, all eligible service members are required to take the BRS Opt-In Course. The course is mandatory and must be completed before a service member can opt-in to the BRS.

Step 3: Educate yourself on the BRS and use the BRS Comparison Calculator to analyze your estimated benefits.

Learn more about the BRS by visiting the one-stop U.S. Department of Defense shop at Military Compensation. Here, in addition to the BRS Opt-in Course, you will find timelines, informational videos (including the Ask Robyn series), frequently asked questions, BRS for Military Spouses Infographic and the BRS Comparison Calculator to help you run the numbers.
Additional information on the BRS may be found at these sites:
The BRS Comparison Calculator is designed to assist eligible service members in comparing the Legacy Retirement System (commonly referred to as the "High-3 System") to the BRS. It is intended to be used in conjunction with the mandatory BRS Opt-In Course.

Step 4: Schedule an appointment to consult your installation personal financial manager/counselor.

This is one decision you don't need to make on your own. Personal financial managers (or PFMs) and personal financial counselors (or PFCs) are available at military installations around the world to provide free, high-quality financial counseling. You can also talk to a PFC by calling Military OneSource at 800-342-9647.
These professionals can help educate you on the BRS as you consider your options. Use this benefit today, but be wary of financial consultants or salespeople posing as financial experts who offer BRS education and try to get you to purchase other services for a fee.

Step 5: Make your decision between Jan. 1, 2018 and Dec. 31, 2018.

You and other eligible service members should take the time to educate yourselves now. Again, you have until Dec. 31, 2018 to make your decision about which system is right for your financial goals.
If an eligible service member wants to stay covered under the current legacy system, they are not required to take additional steps. (However, Marines have to affirmatively decline enrollment in the BRS through Marine Online.)
If an eligible service member decides the BRS is for them, they must opt-in by Dec. 31, 2018.
To learn how to opt-in based on your branch, check out Resources/How to Opt-In to BRS.
All service members who are now entering the military (after Jan. 1, 2018) are automatically enrolled in the BRS.

For all the latest information on the BRS, visit DoD Military Compensation/BRS.
When it comes to the BRS, you've got this! And Military Saves is here to help you stay on track. Take the Military Saves Pledge to set your savings goal for retirement and follow the prompts to opt-in to receive text message reminders and tips. Think of Military Saves as your personal savings support system.

Alecia D. Blair, AFC®, is the Director of Military Saves, a nonprofit program, which seeks to motivate, encourage, and support service members and their families to save money, reduce debt, and build wealth. Learn more at militarysaves.org.
/