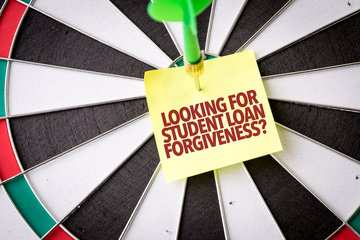 For most borrowers, the only way out of student loan debt is repayment. But, this isn't always the case. Depending on your profession, where you live, who you work for, your repayment program choice or the school you attended when you incurred this debt, you just may qualify to have some or all your student loans forgiven.
Fraud leads to forgiveness.
In November 2015, the U.S. Department of Education expanded its debt forgiveness program to include borrowers who were enrolled in programs at some for-profit colleges. These are schools that have been found to have committed fraud—against their own students or the government—along with those that have gone bankrupt.
Investigation into the practices of the for-profit education industry is ongoing. But, those who borrowed from the following schools should check into their eligibility for loan forgiveness or discharge:
Corinthian Colleges (Heald College, Everest University and WyoTech)
Education Management Corporation (Argosy University, The Art Institutes, Brown Mackie Colleges and South University)
Dade Medical College (University of Southernmost Florida)
ITT Technical Institute
Some professions are just more easily forgiven.
Teachers, lawyers and medical professionals, along with public service employees, may all have access to loan forgiveness.
In exchange for that forgiveness, they are required to take jobs typically, but not always, at lower salaries than they would otherwise earn and/or to work in high-need areas. Under these federal loan forgiveness programs, the government generally forgives the borrower's remaining debt after 10 years of consistent loan repayments are made.
States and other organizations can also offer forgiveness in exchange for service agreements. These programs help ensure people living in underserved areas of their states have access to medical, dental and even veterinary care for their pets or livestock.
While forgiveness may seem too good to be true, it's worth verifying your eligibility. Consider that the Consumer Financial Protection Bureau estimates 25 percent of the U.S. workforce employed in the public service sector could be eligible for repayment benefits.
Click for more information on specific professions:
Teacher Loan Forgiveness
Public Service Loan Forgiveness
State Programs
Consumer Financial Protection Bureau Toolkit
 
Other ways out.
If you select one of the income-driven plans to repay your student debt, you can access forgiveness on any debt still outstanding after 20 to 25 years, depending on the program you select. These programs were designed to keep payments affordable in relationship to your take-home pay, and there is a program for virtually all federal borrowers.
Beyond being able to access a repayment plan matched to your financial circumstances or qualifying based on your profession, location or school-related issues, having your loans forgiven, canceled or discharged is much more difficult.
Permanent disability and death will result in discharges. Bankruptcy is also eligible but only in rare circumstances. The burden of proof regarding the inability to pay—due to the numerous programs that make repayment affordable—makes having a student loan discharged as part of a bankruptcy proceeding very difficult.
To make sure you've sufficiently explored all the options you have for reducing or eliminating your student loan debt, contact an NFCC Certified Consumer Credit Counselor. We can help ensure you receive any relief you are entitled to. Start here to learn about student loan services.
Friday September 15, 2017
/