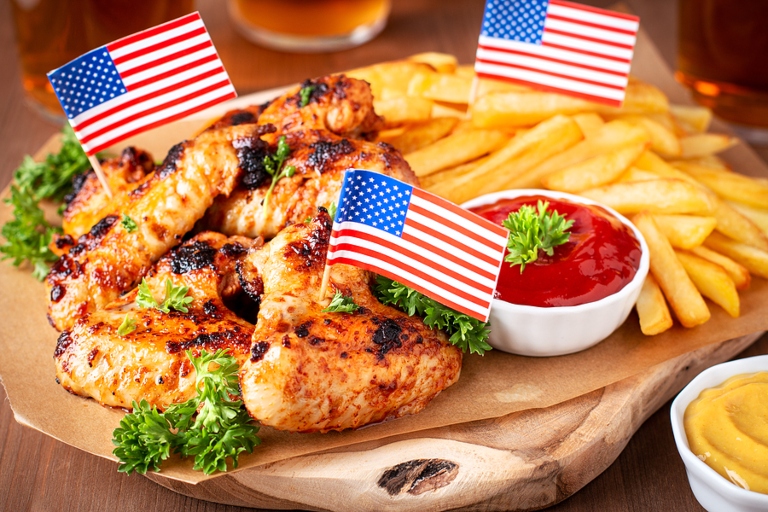 By: Amanda Winstead
The Fourth of July is a great time to get together to celebrate with family and friends. It's a holiday known for cookouts and outdoor parties. However, when you're the budget maker in your family, you might be concerned about the price of your party this year.
There's no denying that prices have gone up. From food to fireworks, and everything in between, it can be hard to put together a budget-friendly party without sacrificing too much.
Thankfully, it's not impossible. Let's take a look at a few inexpensive, creative ideas for a Fourth of July cookout that will help you host a memorable get-together without breaking the bank.
Enhance Your Outdoor Space
Your guests will likely be spending most of their time in your yard, so that should be your main focus when it comes to decor and creating an enjoyable environment. When you look at your monthly budget planner, however, you might find that you don't have a lot of extra income to dedicate to decor.
So get creative! You can still decorate your space on a budget so your yard, patio, or deck looks its best. Consider some of the following ideas:
Buy clearance items;
Buy directly from a vendor;
Choose multifunctional pieces;
Check out garage sales and thrift stores;
Rent items.
Alternatively, you can use pieces of furniture and decor you already have on hand. With a little creativity, you can repurpose just about anything. Give that old patio table a new coat of paint or reupholster some old chairs to give them new life.
You'll need places for your guests to sit and eat, and furniture will likely be the biggest expense. Prioritize your budget with your layout in mind, and you'll be able to know exactly where your money should go.
Get Thrifty with Decor
Once you have furniture out of the way, the next thing to consider is the outdoor decor. You can get thrifty with your outdoor decor ideas by using layered lighting, mismatched aesthetics, and strategizing the placement of everything to make your space look bigger than it might actually be.
Consider using your own dinnerware or thrifted, mismatched pieces that you source from a local garage sale instead of investing in single-use dinnerware and silverware. Not only will it save you money, but it's a more sustainable practice.
Your decor should accent the natural features of your yard. Utilize plants and flowers, clean up your landscaping, and make sure your guests can appreciate the natural beauty of a warm summer evening without cluttering the outdoors too much with decorations. Your goal should be to host a great outdoor party, where your guests feel comfortable, not cramped! Utilizing nature as much as possible can help everyone feel calm and relaxed.
Save on Cookout Food
There's no denying that food prices are on the rise. That could put a damper on some traditional holiday plans — especially with the cost of meat for cookout supplies.
However, there's no reason you can't still enjoy some of your cookout favorites on a budget. Some swaps can even be budget-friendly and healthy options! Fill your shopping cart with more inexpensive items like:
Fruits and vegetables;
Eggs;
Beans;
Quinoa;
Pasta;
Rice;
Yogurt.
Not only are these ingredients healthy, but most of them can be served as side dishes or mixed into delicious, cool, and refreshing salads. While you might have to cut back on how much meat you're offering, you can bulk up the rest of the meal by shopping smart and utilizing the right ingredients.
Enjoy Your Budget-Friendly Fourth of July
Whether you're currently trying to tackle an existing pile of debt or you're just trying to be a better budget planner, there's no reason you can't enjoy a fantastic Fourth of July cookout this year. Keep your space and decor in mind, shop on sale when you can, and choose to reuse and repurpose as much as possible. Doing so will not only save you money, but it will make your cookout a truly one-of-a-kind experience for your guests.
/