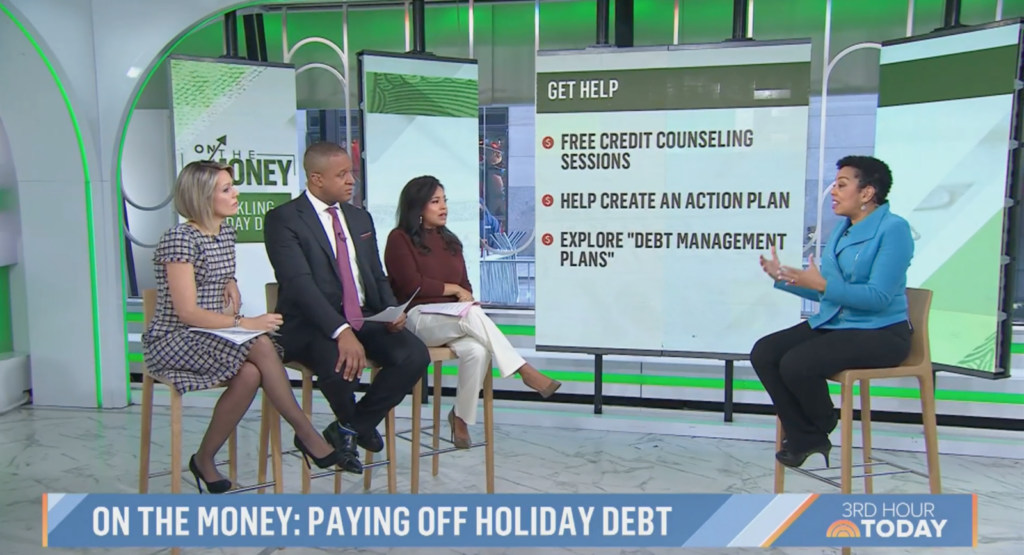 Struggling to pay off your holiday debt? Whether you've overspent on gifts, you're paying off an airline ticket for your holiday trip, or any other debt you've accrued before the new year, you have options—in some cases, you can even pay off your holiday debt well before the summer.
How? According to financial expert Sharon Epperson and The Today Show, partnering with a nonprofit credit counselor like the National Foundation for Credit Counseling (NFCC) can help. Read on to learn why NFCC was recently mentioned on The Today Show, as well as other useful strategies that can help you leave holiday debt behind you this year.
NFCC's Recent Feature on The Today Show
NFCC has long been regarded as the leading nonprofit credit counseling agency, providing a range of helpful options that can improve your financial well-being and manage debt. Our organization's reputation led to the recent mention by financial expert Sharon Epperson.
When it comes to consolidating your debt, Epperson says that the first thing you should do is contact a nonprofit credit counseling company, like NFCC. She says, "You want to make sure that you talk to a credit counselor about how you can consolidate debt. Does it make sense to have a debt consolidation plan, a debt management plan? You can get one for free at the National Foundation for Credit Counseling."
How can the NFCC help you? Not only do we provide a comprehensive review of your financial situation, including credit obligations like loans and credit cards, but we also provide an action plan that details each possible option to help you get out of debt.
Your counselor may suggest strategies that can lower your interest rates, lengthen your payment terms, waive fees, or other effective approaches to debt management. While you'll still owe the debt you've incurred, you'll be able to pay it off under much more favorable circumstances.
Best of all, you may receive your initial consultation with a complete financial review at low or no cost. While there's a fee to activate your plan, plus nominal monthly fees to maintain it, you'll take a big step closer to eliminating your debt—whether holiday-related or otherwise.
More Effective Strategies for Paying Off Holiday Debt
Aside from reaching out to NFCC and following the debt management plan that our counselors provide, some other effective ways to move past holiday debt include:
Pay off high-interest credit card debt first.
Apply for a credit card with an introductory 0% APR for balance transfers, then transfer your current balance to the new card.
Ask your credit card lender to lower your rate—you won't know if you can secure more favorable terms unless you ask.
If you qualify for a loan with a lower interest rate than your credit card's rate, pay off credit card debt with a personal loan.
If you use a buy now, pay later loan, double-check the terms to ensure you aren't hit with interest on the unpaid balance or late fees.
Partner With NFCC to Pay Off Your Holiday Debts
While debt is real, it doesn't have to last forever. With the help of NFCC, you can take the first step toward a brighter financial future. Beyond our decades of experience and long list of credentials, we offer hope. Call us today at 800-388-2227 to get started.
/