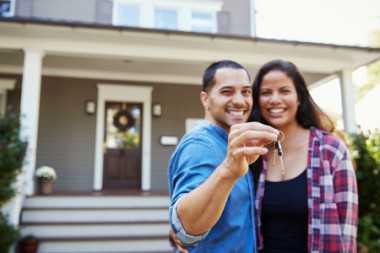 According to Pew Research, nearly four in 10 adults under age 30 have student loan debt. If you're among that number, becoming a first-time homebuyer can seem a bit daunting.
However, with proper planning, you don't need to worry that your student loan debt will keep you from qualifying for a home loan. Read on for six practical ways to make home buying feasible as you manage your student loan debt.

Make a Debt-Management Plan
If you have a student loan, you are more likely to be approved for a low-interest rate home loan if you have little to no other debt. Reducing debt will improve your debt-to-income ratio, which is a key factor that lenders consider when approving homeowners for mortgage loans. Make sure to pay off any credit card debt or other outstanding bill payments you may have. Likewise, if you have a car payment, try to pay it down as much as possible.
You don't have to pay off all of your school debt before buying a home, but you need to have a plan in place to repay your student loans. Being able to regularly make your debt payments on time will reflect favorably on you as you apply for a home loan.

Build Your Credit
Raising your credit score can increase your chances of qualifying for a loan, even with student loan debt. Build your credit by paying your bills on time and keeping credit accounts open. Doing so will demonstrate that you have an established credit history and that you have a good track record of debt management.
If possible, pay off your credit cards a few weeks before your lender runs your credit—far enough ahead that the credit company will have time to report the clean balance to the bureaus—and then don't use them again until after your loan is approved. Owing too much money on revolving credit accounts will negatively affect your debt-to-income ratio.

Save Money for a Down Payment
The larger down payment you make, the easier it'll be to get favorable terms on your mortgage. Plus, in order to avoid costly mortgage insurance, you will need to pay at least 20% of the home cost for your down payment. So, even if you don't plan to buy a home in the near future, start saving for a down payment now. If money is a little tight and you don't have much wiggle room to save, consider getting a second job and cutting back on unnecessary expenses.
If you can't save enough money for a substantial down payment, consider a loan assistance program, such as an FHA loan, where you can qualify to purchase a home with as little as a 3.5% down payment.

Consider All Home Ownership Costs
In addition to principal and interest, a mortgage typically includes homeowners insurance payments and property taxes. Keep in mind that property taxes can vary widely based on the county or city, so you'll want to do some research to understand how much that will add to your monthly home payments.
Particularly if you are a first-time homebuyer, consider the costs of home ownership beyond your mortgage payment as well. Homeowners have monthly housing expenses, like homeowners' association (HOA) fees, utility payments, and internet/TV costs. Remember to budget for expenses related to home maintenance too, such as home and appliance repairs, landscaping, and pest control—just to name a few. Owning a home comes with various costs that, if you aren't careful, can stretch your budget thin.

Determine What You Can Realistically Afford
The most practical way to still afford a home even with student loan debt is to ensure that you purchase a modest home within your budget. Until you repay your student loans, you may not be able to afford your dream home, and that's okay. Being financially responsible now will make it easier to upgrade down the line.
A good rule of thumb to follow is to shoot for a home cost of 2.5 times your annual gross income. One-third of American homebuyers go over budget to purchase a home—and by an average of $16,510. Don't fall in with that trend; avoid financial stress by staying within your predetermined price range.

Find Ways to Reduce Home Ownership Costs
When looking to purchase a home, think of ways to reduce home expenses. For example, smart technology, such as smart lights and smart thermostats, can reduce your energy bill. Some smart thermostats can track your behavior and turn off the air conditioner or heater when you're not home. Likewise, you can control smart light settings from your smartphone and set a time for lights to automatically come on or turn off.
A home security system is one tech item that, surprisingly, may also save you money. Because homes with security systems deter burglars (thus preventing home damage and stolen items), insurance companies are typically willing to give a discount on homeowners insurance to homeowners with a security system, which can save you money in the long run.
Even with student loan debt, your dreams of homeownership can become a reality. Follow the listed tips here, and you'll be well prepared to purchase your home.
By Guest Blogger: Alice Williams

/