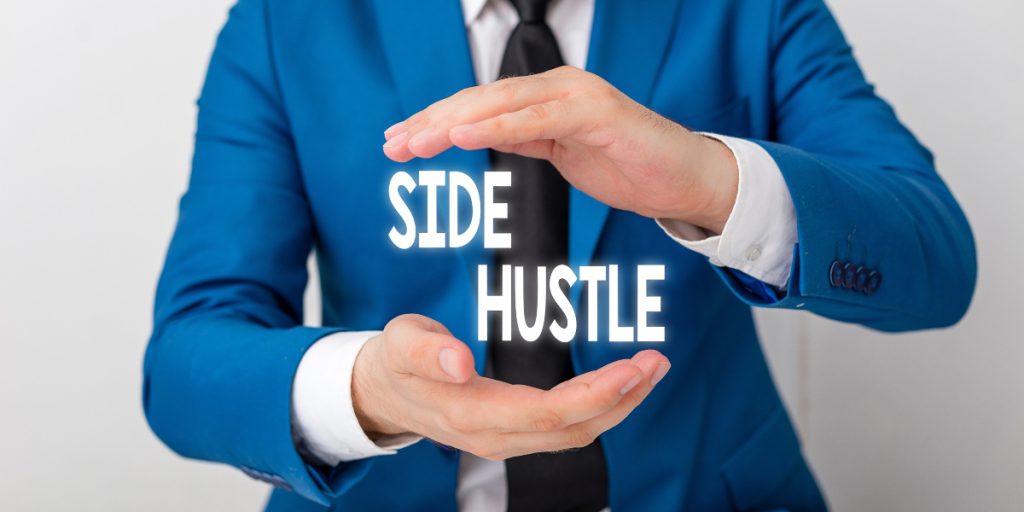 Side hustles, otherwise known as second jobs, aren't a new thing. Perhaps because more and more adults in the U.S. are taking on supplemental employment, second jobs have adopted this new "side hustle" moniker. 
The difference is that when people say "side hustle," they are often talking about something they do on their own time—typically as an independent contractor, rather than an employee.  
According to Bankrate, 45% of U.S. adults have a side gig and, on average, they earn $1,122 per month of supplemental income. Beyond simply raking in cash, side hustles also allow workers to explore interests without quitting their day jobs. In fact, 27% of side hustlers said that they're more passionate about their side hustle than they are about their primary employment. 
Considering joining the legion of US workers who are taking on extra work? Here is your guide to starting a successful side hustle:
First, find your side hustle gig
The first step to setting up a side hustle is finding one that's right for you. Not only do you need to consider your talents, experience, passions, and contacts, you also need to consider the numbers. 
Not every side hustle is created equal. Certain industries, like web and software development, design and creative assets, and writing and translation make the best freelance and side hustle gigs for generating the greatest demand and highest pay. 
The side gig that interests you the most might not be the one that will make ends meet—especially when you're taking on extra work specifically for the money. Make sure you find a side hustle that harnesses not only your interests and experience, but also an ideal industry outlook.
Write out a simple business plan
Writing out a side hustle business plan might feel like an unnecessary step, especially for those who are simply taking on some freelance work on the side. Taking the time to map out your side hustle business plan, however, can help you solidify your short-term and long-term goals. 
Create a simple business plan for your side hustle by writing out the following sections:
A quick summary of your side hustle.

A description of your industry and where your side hustle fits into it,

An analysis of your competition and your target customer.

Your plans for marketing your side hustle.

A description of your side hustle finances, like your rates and anticipated expenses.

A detailed description of the services or product you plan to offer through your side hustle.

A quick bio of yourself and your qualifications, along with those of any other contributor to your side hustle.
This side hustle business plan has additional value as communications material. A version of your business plan could serve as an "About" page for your side hustle website, or even just a blurb for the side hustle entry on your LinkedIn page. Plus, you can send a copy of your business plan to potential clients or customers as a quick primer on your offerings. The structured, thought-out nature of your business plan could add a uniquely professional touch.
Set up separate business accounts
Even before you start spending and earning for your side hustle, you need to set up separate accounts for your side hustle finances. At the very least, you should set up a business checking account so that you can access a separate business debit card for your side hustle expenditures. 
If you have to buy materials, software, or workspace for your side hustle, do so with your new business debit card. That way, you'll have all of your business expenses in one place. As you rake in revenues for your side hustle, whether through sales or fulfilled invoices, funnel them into your business checking account. 
It will be tempting to simply mix your personal and side hustle finances, but doing so will make filing taxes a nightmare every quarter and especially every spring. Having all of your freelance income and expenditures separate from your other finances will make paying your quarterly estimates and filing for a return as easy as pulling up bank statements.
Get accounting software
Getting accounting software for your side hustle will also allow you to keep your professional finances tidy. Many business accounting software options come with features designed specifically for freelance work. If you plan on invoicing clients for your services, then top accounting software options will allow you to send professional, customizable invoices. Some software options will even allow clients to fulfill invoices through online invoices with a few clicks. 
Many freelance accounting software options will also help you find freelance tax deductions that you can file in your return. Many expenses you'll incur through your side hustle will be eligible for a tax deduction, and accounting software can make it easy to sift through and spot them within your bank statements. The best of the best accounting software options will even allow you to pay your quarterly tax estimates and file your return directly through their interface. 
Manage your time well
Side hustles are just that—hustles. Managing your time well is crucial to having a successful side hustle. Some days, you might feel like every single waking moment is filled with work, especially if your day job has long hours. Be sure to stick to a sustainable, delineated schedule for your side hustle work. Otherwise, the dangers of burnout could become all too real—for both your side gig and your primary job. 
Don't quit your day job just yet
Which brings us to the last step for starting a successful side gig: Don't quit your day job just yet. Getting caught up in the excitement of a side hustle is easy—especially if your side gig involves pursuing a passion. But remember why you started out with it as a side hustle in the first place. The steadiness of your day job can help you focus on the creative aspects of your side hustle, without the financial pressures that come with completely diving into a new venture head-first. 
Starting a successful side hustle: The bottom line
Ready, set, hustle! You're familiar with all the logistical steps you need to take to set your side hustle up for success. Taking the time to create a solid foundation for your supplemental employment will help you ultimately succeed in whatever goals you have for your side hustle. Whether you simply want to access additional income, you need to access additional income, or you want to pursue a passion, these six steps can help you do just that. 
/