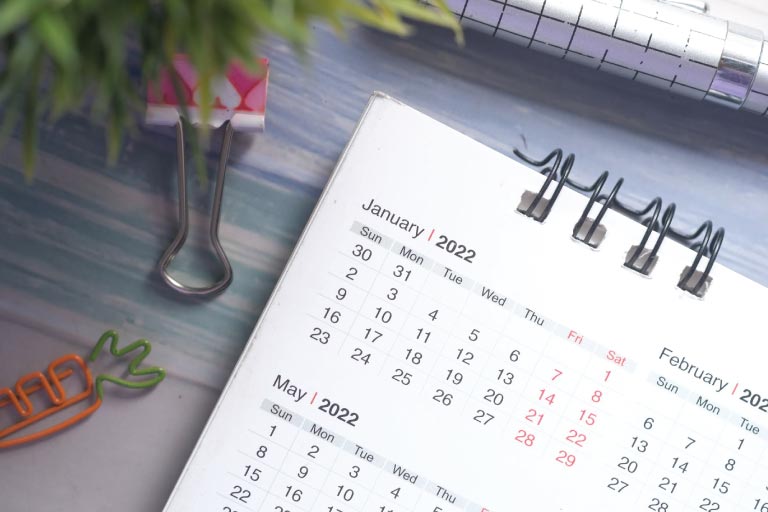 There is no better time than right now to check in on your financial goals and assess how each of your financial-focused new year's resolutions are coming along. Not only that, but it's also a good time to take the pulse of the economy, look for trends, and make strategies for how you can have the best year possible (financially and otherwise)! Here are four important factors to consider as you set and work toward your 2022 financial goals.  
The Job Market is Red Hot (So You Might Make More Money) 
As you may recall, the job market was very strong right before the COVID-19 pandemic back in early 2020. Then, we saw a spike in the unemployment rate, as certain sectors were hit hard by the realities of the pandemic and social distancing. Since then, there has been a steady improvement in the job market, and the unemployment rate is now below 4 percent (what is considered "full employment") and is expected to drop further, to about 3.5 percent by year's end. 
This means that there is fierce competition for talent. Companies are having a hard time keeping their workers, which is part of why you may have heard the term the "Great Resignation" used to refer to the fact that many people are leaving their jobs. You can turn this in your favor by negotiating a raise or looking for a different, higher-paying job. The current environment presents a really unique opportunity to improve the "income" side of the "savings equals income minus expenses" formula.  
One study suggests that employers are budgeting an average of 3.9 percent of total payroll for wage increases this year. Consider using this to your advantage by having a direct conversation with your boss about a raise (see some great pointers here for handling the negotiation) or looking for a job elsewhere that pays more. Now may be a great time to move into a new role and take the next step in your career.  
Inflation Has Arrived 
Making more money at work is a great thing, but you may not feel like you are that much better off, even with a raise, because of inflation. Due to a variety of factors, prices are rising everywhere you look – the grocery store, the gas pump and elsewhere. You should take a close look at your budget and make sure it reflects the current reality of higher prices.  
While we don't have a crystal ball, you should at least plan for these rising prices to continue, and adjust accordingly. While increasing your wages will help fight inflation, so too will finding deals wherever possible. As a simple example, think about used cars. Prices on used vehicles have risen so much in the last two years, that you may be able to sell your car for more than you paid for it. If it would be feasible to do without a car, or to use the profits to purchase a much cheaper car from a private seller that has not been as inflated, that could be a very wise financial move. Look for opportunities like this where you can.  
Housing is a Challenge 
The housing market has been particularly difficult over the last year or so, and in many parts of the country that is not expected to change soon. One of the biggest factors is the lack of inventory. As a Fortune article explains, "As of December, there were just 1 million homes listed for sale on Zillow. That's down 17.5% from December 2020, and down 37.8% from December 2019, when there were nearly 1.7 million homes for sale. This means the housing market is tighter right now than it was heading into the hypercompetitive 2021 spring housing market." 
If you are planning to buy a home, you may want to carefully consider how best to move forward. You may choose to continue renting and wait for a break in the market, or you may decide to try to buy now, anyway. Another option would be to relocate to an area with lower housing costs or perhaps an area with more inventory. You will also want to give thought to how rising interest rates may affect your plans and the affordability of a mortgage.  
Important Changes to the Legal and Regulatory Landscape 
Several programs and policies put into place in response to the pandemic are scheduled to come to an end. These could impact your financial goals and budget, so you should take them into consideration. To name a few, the federal student loan pause is set to expire in May of this year. The expansion of the Child Tax Credit was not extended. And, renter protections across the country (what are often referred to as "eviction moratoriums") are coming to an end. 
Read our article discussing these issues and be sure to adjust your budgets and expectations accordingly. Knowing that these changes are on the horizon will help you make the appropriate moves for your situation.  
As you set your goals for 2022 and work toward them, remember to look at the big picture. Keeping these factors in mind may help you develop the high-level strategies for your budget and achieve your financial goals. For more help with setting goals, including making a plan to pay off high interest debt, contact a credit counselor.  
/