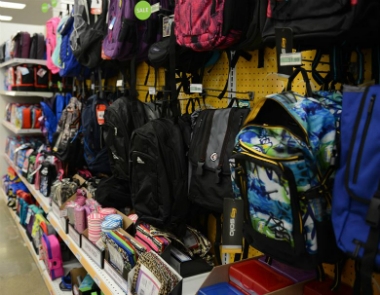 Getting youngsters ready to go back to school can cost a family hundreds of dollars when back to school shopping— and the cost only goes up from there, with the cost of outfitting a high-school or college student climbing into the four-digit range. 
Between clothes, classroom supplies, and the increasingly necessary technology purchases, finding any savings you can is the key to avoiding breaking the bank while getting the kids back to school. Thankfully, there are several ways you can help keep costs down. 
Combine Coupons with Credit Card Rewards
Although many people know coupons are a good way to save, and more and more people are using credit card rewards for extra value, the smart shoppers combine the two methods for compounded savings.  Most stores will allow you to combine manufacturer's coupons with store coupons. Then, use your favorite rewards credit card to score as much as 5% cash back on your purchases. 
Even if you have less-than-stellar credit, there are a variety of options for earning purchase rewards with a credit card. Just be sure to only charge what you can pay off right away to avoid interest fees; no amount of purchase rewards can make interest worth paying. 
Check Issuer Shopping Portals for Discounts
Did you know that most issuers offer online shopping portals filled with discounts and special offers?  These portals can help you save as much as 10% on your purchases through direct discounts or bonus rewards, simply by logging into your online credit card account before you start purchasing. 
Shop Early — Way Early
If you've ever popped into the local big-box store a few weeks into the school year, you've likely noticed that all those unsold notebooks are on sale, along with many other school necessities. Since most school supplies are the same year after year, consider stocking up for next year while the prices are at rock bottom.  
Automate Your Back-to-School Savings
One tried-and-true way of avoiding debt is to have the cash on hand to pay off your purchases right away. So, if you know the upcoming school year will come with some big costs, start building it into your budget early.  
A simple way to save is to set it and forget it; open a separate savings account just for your goal, perhaps one at a different bank, then set up an automatic transfer each week or month. Out of sight, out of mind. Sites like NerdWallet can help you find an affordable savings account that won't eat into your savings with big fees. 
Use 0% APR Offers for Big Purchases
If you didn't save quite enough for your kid's new laptop or other major purchases, don't fret. Many credit cards offer introductory 0% APR deals that can give you 12 months or more interest-free to pay off your purchases.  That rate will revert to the regular APR after the offer expires, of course, so be sure to pay off your purchases before the end of the promotional period to avoid paying interest. 
About the Author
Brittney is a Contributing Editor for Digital Brands, Inc., where she uses her extensive research background to develop comprehensive guides and in-depth company profiles for BadCredit.org and CardRates.com. Brittney specializes in translating complex ideas into readable, engaging content for B2C and B2B audiences.
/