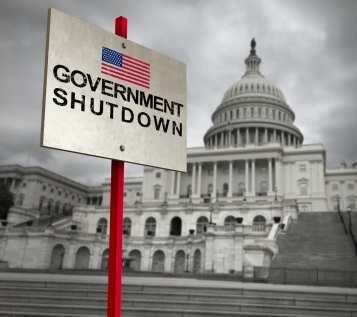 The government shutdown is now causing many Americans to wonder how they will survive financially. By some estimates, 380,000 workers are furloughed indefinitely without pay, while an additional 420,000 are working without pay until the shutdown ends. With no immediate end in sight, more than 800,000 federal workers nationwide will be without a paycheck this Friday. This will be the first payroll distribution affected by the shutdown.
The Federal Reserve Board has reported that nearly 4 in 10 Americans are unable to cover a $400 unexpected expense – which means that some of the furloughed federal employees have likely exhausted their cash reserves in order to stay afloat. Adding to the financial strain, not all impacted workers can count on retroactive pay after the shutdown, which means that there will be a long road to financial recovery for some.
The NFCC advises consumers to take the following steps to do what they can to put themselves in a better financial position, regardless of what may be in store for the months ahead:
Contact Your Creditors Immediately*
Waste no time reaching out to all the creditors you owe before payments are missed – credit cards, car loans, mortgages, etc. Although the Office of Personnel Management provided access to sample letters, a more personal approach to this critical step can be helpful.
Switch to an Emergency Budget
Cut all expenses that are not necessary for survival. Some ideas to consider include pausing your gym membership, limiting travel or suspending cable. NFCC Certified Credit Counselors are available to help you create a bare-bones spending plan for the duration of the furlough to keep all your necessities in place.
Identify Community Resources
Charities, nonprofits and commercial businesses are all pitching in to provide a variety of support. Look for local charities and private businesses around you for discounts and services they are offering.
Get Professional Financial Assistance from Nonprofits
Contact and nonprofit credit counselor today for help with your budget and debt at this stressful time. Give us a call at 800-388-2227 or contact an NFCC member agency here.
*More About Creditor Assistance
According to what has been reported by various media outlets on the morning of January 9, here is what is known regarding what creditors are doing for affected federal workers:
Bank of America and Chase have established special toll-free hotlines. Bank of America is 1-844-219-0690 and Chase can be reached at 888-356-0023. This Wells Fargo website can also be used as a resource.
Bank of America, Chase, Navy Federal Credit Union and Wells Fargo have offered support to federal employees by including fee refunds or waivers, loan modifications and repayment plans.
For federal workers who have direct payroll deposit, Wells Fargo will automatically reverse monthly service and overdraft fees. Chase also announced a similar plan.
Navy Federal Credit Union is offering 0% interest loans for up to $6,000 with a grace period.
This is by no means a complete list and details are subject to change as the shutdown continues. Be sure to contact your creditors directly to learn the specific offerings for these special circumstances. 
Wednesday January 9, 2019
/