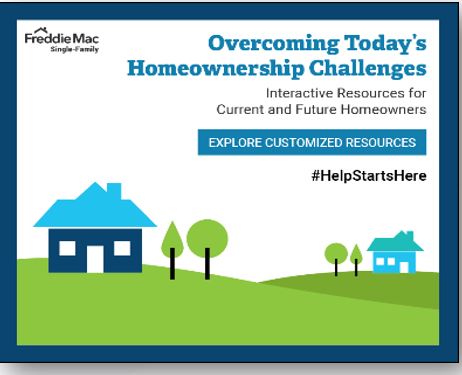 There's no question the COVID-19 pandemic has caused unprecedented economic hardship for so many, including those struggling to make their mortgage payments. To help arm consumers with the knowledge they need to make proactive and informed decisions now and in the future Freddie Mac launched #HelpStartsHere, an initiative focused with providing affected homeowners with options to stay in their homes.
Homeowner Resources
As part of the #HelpStartsHere initiative we're pleased to share two key resources that were developed to help educate you and address the housing challenges you may be facing.
Sustaining Homeownership in a Crisis: An Interactive Guide for Homeowners
This interactive guide, available in English and Spanish, provides information and resources on:
How mortgage servicers can help clients that have experienced job loss, reduced income, illness or other issues related to COVID-19 that impacts their ability to make their monthly mortgage payment.
Steps to take to stay organized and on track if you pursue mortgage relief options.
Avoiding scams such as "foreclosure rescue fraud."
Overcoming Today's Homeownership Challenges
This online resource, available in English and Spanish, guides borrowers who are seeking assistance as they look to evolve post-COVID. There are four profiles featured, each facing different challenges and seeking guidance:
Existing homeowners who developed a workout plan with their Servicer but are uncertain of their future options.
First-time or new homebuyers facing a COVID-19 hardship.
Borrowers looking to sell their home during COVID conditions.
Future homebuyers seeking financial planning and mortgage assistance.
CreditSmart® Homebuyer U – Now Available in Spanish!
In addition to our #HelpStartsHere resources Freddie Mac offers CreditSmart® Homebuyer U,
a comprehensive homeownership education course offered through an interactive, guided experience. It offers six modules, each focused on key learning principles to promote education, homebuyer preparedness and financial management.
If you're struggling to make your mortgage payments due to the COVID-19 pandemic, or wish to refresh your learnings about homeownership sustainability, we encourage you to turn to CreditSmart Homebuyer U with particular focus on Module 6: Preserving Homeownership.
Module 1: Overview and Introduction of the Homebuying Process
Module 2: Managing Your Money
Module 3: Your Credit and Why It Is Important
Module 4: Getting a Mortgage
Module 5: Finding a Home and Closing on a Loan
Module 6: Preserving Homeownership
Participants will enjoy numerous benefits including:
Ability to toggle between English and Spanish translation throughout the course.
Flexibility to take the course at your own pace using multiple devices (mobile phone, tablet, desktop).
Functionality allows users to log in/out of the tutorial from any device while saving progress on-demand.
Compatibility with multiple internet browsers.
Convenient access to course completion certificate.
User support available in English and Spanish.
Printable certificate of completion with the user's name is generated after successfully completing the final quiz. A copy of the certificate can also be provided to a co-borrower, the lender or other housing professional.
The successful completion of this tutorial satisfies the homeownership education requirement for the Freddie Mac HomeOneSM and Home Possible® mortgages which offer a low, 3% down payment option.
During uncertain times and financial hardship understanding the options available to sustain homeownership is vital to making proactive, informed decisions.
Help starts here ̶ with Freddie Mac.
/