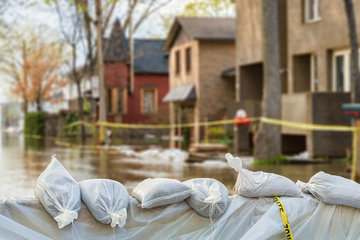 Although we've all heard that we should be prepared in case of a disaster whether it be a house fire or a hurricane, we often put it off thinking the chances aren't very high that anything will happen. But when a natural disaster strikes, there are so many pieces to take into consideration. Here's a post disaster checklist to help!
Contact your flood and home insurance companies and file insurance claims.
Know what your insurance company covers and provides in the recovery period, such as reimbursement for living expenses.

Be able to provide an inventory of all your belongings.

Take pictures and email them to yourself, your insurance agent and back them up to the cloud if possible so you have them when you need them.
Notify your utility and cable companies if your residence is uninhabitable so the bills will be halted.
Contact your creditors, including your mortgage company, auto lender, and credit card companies.
Let them know all of the details about the impact of the natural disaster on your life and your ability to make timely payments.

Late fees are typically waived for those residing in areas impacted by a natural disaster and in extreme cases monthly payments may be deferred for a period of time.

Obtain a copy of your credit report from all three of the credit reporting agencies. This can be done for free at

annualcreditreport.com

If the disaster impacts your ability to pay and affects your credit report, you can add a 100-word statement to your credit report to explain how a natural disaster has disrupted your life and may interfere with the ability to make creditor payments. (This doesn't protect your credit rating, but it may help your circumstances and influence future lending decisions.)
Tap into your cash resources since most places may be out of power and require cash for purchases.
Know where you can find help after a disaster.
Contact your state and county offices of emergency preparedness.

Federal Emergency Management Agency (FEMA) is part of the U.S. Department of Homeland Security. Visit fema.gov or reach FEMA by phone at 800.480.2520.

American Red Cross- Visit redcross.org and enter your ZIP code in the "Find Your Local Red Cross" area or click or tap on "Plan and Prepare" to see many more facts and tips on disaster preparedness. Call your local chapter for more specific information. Download disaster-specific apps for your smartphone at redcross.org/ prepare/mobile-apps.

Salvation Army- Visit

www.salvationarmyusa.org

for more information.

Volunteers of America- Call 800.899.0089 or visit voa.org for more information.

National Voluntary Organizations Active in Disaster- Visit nvoad.org for more information.
Research special programs that apply to your family, such as veteran benefits.
You could be eligible for a monthly benefit. For more information, visit the Department of Veterans Affairs website at va.gov
If you feel uncomfortable, just say "no".

Always be cautious when wiring money.
Talk to a
certified nonprofit credit counselor
before making any big financial decisions. (i.e. A reverse mortgage, tapping into a retirement fund, filing bankruptcy.)
Wednesday August 30, 2017
/