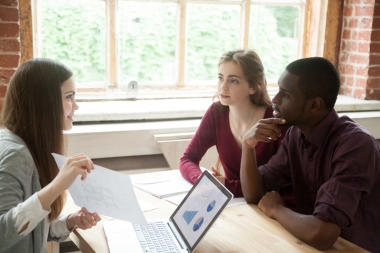 Americans owe more than $1.48 trillion in student loan debt, according to Student Loan Hero. That sum is the result of 44 million borrowers or roughly two-thirds of students graduating from four-year colleges.
Many people in their 20s and 30s with student loan debt wonder whether they can or should buy a home while they are still in debt. Some find they are perfectly capable, while others realize they are better served to continue renting for the time being. Each person's financial picture is different; to gauge whether you're ready to become a homeowner before paying off your student loans, consider these five factors. *Please keep in mind that we are providing objective information and not financial advice.

Loan Interest
As a rule of thumb with any debt, the higher the interest rate, the sooner you should try to pay off the loan. Student loans with lower interest rates and longer repayment periods allow for more leeway to perhaps buy a home. A high-ranking financial advisor suggested to USA Today that "those holding a student loan with 5% interest or less should direct their money toward investing in the future." However, the majority of student loans—particularly private loans—carry noticeably higher interest rates that could make it difficult to incur additional debt in the form of a mortgage.

Debt-to-Income Ratio
Mortgage lenders look at your debt-to-income ratio (DTI)—and you should, too. You can calculate your DTI by adding up all of your monthly debts (including student loans, credit cards, auto loans, and medical debts), and then dividing the total by your gross monthly income. Your gross income is the amount you make before taxes.

DTI is not just a number, but rather, a true indicator of your current finances. Most lenders will not accept an applicant with a DTI higher than 43 percent, and most financial experts will recommend anyone in the high 30s pay down their debts and improve their DTI before applying for a mortgage. If your DTI is below 30, that is a really good sign, and you should explore the possibility of homeownership further.

Again, these are general guidelines. Always speak directly with a financial professional when making milestone decisions like that of purchasing a home.

Rent vs. Own
Renting at age 30 and onward is often likened to throwing money away, because there is no investment or equity. While the latter half of that statement is true, the insinuation that no one should ever rent is false. It's a matter of comparing what you currently pay each month in rent against what you would pay each month on a mortgage.
Oftentimes, the calculations do show that homeownership is the more financially sound decision. In certain markets, you might even find that you can get more for your money in the same neighborhood by owning instead of renting. Learn more about the key differences between homeownership and renting—from the financial considerations to the commitment and emotional rewards—in this article. You can also take our mortgage readiness quiz.

Down Payment
Perhaps a prerequisite in all of this is whether you have enough money put away for a down payment on a home. It can be nerve-racking for a first-time home buyer to shell out the traditional 20 percent down payment, and, in some instances, there is no way around this percentage. You'll be happy to hear, however, of low-down-payment loans that make it possible to buy a home with as little as 3 percent down. In fact, the National Association of Realtors suggests that the typical down payment for first-time home buyers is just 6 percent—a welcomed relief from that imposing 20 percent. Home-buyer coaching can be helpful in determining the down payment you will need.

Stability
We could list many more factors in buying a home before paying off your student loans. Do you like the city you live in and plan to stay long-term? Are you happy with your career and where it's headed? Are you ready to start a family? Have you built up an ample emergency fund? These types of questions help give you a sense of whether the time is right to buy a home.

You're Not in it Alone
Student loans are only a small piece of the puzzle that is your financial future. An NFCC accredited financial counseling agency can help you gain a stronger grasp of your finances with student loan counseling, debt coaching, homeownership resources, and more.


About the author:
Melinda Opperman is an exceptional educator who lives and breathes the creation and implementation of innovate ways to motivate and educate community members and students about financial literacy. Melinda joined credit.org in 2003 and has over 19 years experience in the industry. Credit.org is a nonprofit financial counseling agency specializing in Debt Management Plans and helping people get out of debt.
/