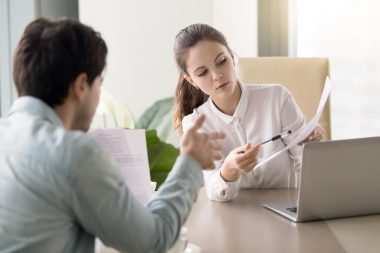 Positive cash flow, or working capital, as its often referred to is one of the most common challenges business owners face. Whether for payroll, inventory, equipment or any other expense, having extra funds on hand can go a long way toward keeping your company running smoothly. Not only that, it can also help you make decisions and take steps to grow your business.

You know you need working capital, but where and how do you obtain it? The two business lending products most business owners need to know about are a business loan and a business line of credit. While both of these serve the same purpose in that that provide cash, they differ notably in their terms and uses. Let's take a closer look at a business loan vs. a line of credit.

How a Business Loan Works
A business loan is also commonly referred to as a term loan, or business term loan. Just like in a mortgage, you are borrowing a specific total sum of money and repaying it over a set period of time, with interest.

Business loans are usually offered with fixed interest rates, meaning the interest rate stays the same throughout the life of the loan. The benefit of a fixed rate is that it makes for predictable monthly repayments.

How a Business Line of Credit Works
A business line of credit is a loan of sorts but functions more like a credit card. When you are approved for a line of credit, you receive a maximum credit limit. You can use the funds as you wish, up to the predetermined limit, making monthly payments including interest on any funds you draw from the line and/or carry over from the previous billing cycle. The line is replenished as you repay.

In short, a line of credit is typically easier to obtain than a loan—generally, no collateral required, with little to no closing costs—and is more flexible. That said, a business line of credit is not to be confused with a business credit card, as similar as they may seem. Lines of credit often carry much larger amounts compared to business credit card limits, and thus have higher APRs. Most banks will also require a minimum annual revenue in order to qualify for a line of credit, but not to qualify for a business credit card.

When to Seek a Loan
Now that you know how business loans and lines of credit work, let's take a quick look at when to use which product. First up, a business loan. Receiving a lump sum in a loan can be great for making a large purchase or upgrade, such as:

Office upgrades
A new location
Equipment
Company vehicles
Acquisition

Financing any fixed asset or specific purpose with long-term value will likely lead you to a loan. You will explain to potential lenders why you need the loan and how it will help your business, with financial projections to quantify the need. Also keep in mind that a business loan comes with closing costs that can amount to several percent of the sum of the loan.

When to Seek a Line
Are you in need of some breathing room in your cash flow? A line of credit is designed exactly for this situation, so you can comfortably account for short-term costs and operating expenses such as:

Payroll
New hires
Marketing
Seasonal expenses
Inventory

Many financial experts will recite this mantra: Apply for a loan when you need it; apply for a line of credit before you need it. The takeaway is that a line of credit is more of a cushion. Because a line of credit is not collateralized and presents a greater risk to the lender, it will have a higher interest rate (unless you are a prime borrower). Therefore, you want to be sure that you are using a line of credit for the right purchases and not those for which a loan would be a better fit.

Long-Term Means Loan, Short-Term Means Line
To reiterate, this is the general rule of thumb to follow when comparing a business loan and line of credit. However, there are many other factors to consider when comparing specific products and evaluating your business needs. Regardless of which you choose, the underlying advice, of course, is to manage the extra cash wisely and have a plan for repaying any money you borrow.

About the author:
Melinda Opperman is an exceptional educator who lives and breathes the creation and implementation of innovate ways to motivate and educate community members and students about financial literacy. Melinda joined credit.org in 2003 and has over 19 years experience in the industry. Credit.org is a nonprofit financial counseling agency specializing in Debt Management Plans and helping people get out of debt.
/