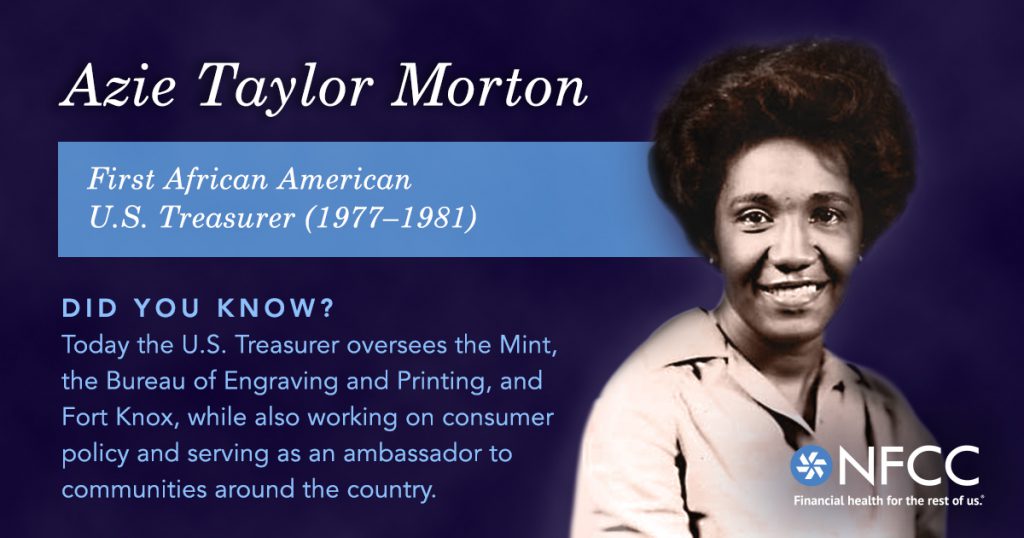 To honor Black History Month, we are taking a look at the lives and accomplishments of African Americans who have played important roles in the American economic and financial landscape. In this article, we discuss the life and contributions of Azie Taylor Morton, who was a trailblazer in government and advanced to role of U.S. Treasurer.

General Life
Azie Taylor Morton was born in the small town of Dale, Texas, outside of Austin, in 1936. She would face challenging circumstances from the beginning of her life. To name a few, she would never meet her father, her mother was deaf, and her town did not have a traditional high school that African Americans were allowed to attend. Yet, thanks to the dedication of her family—including the grandparents who helped raise her—and her own perseverance, Morton would go on to be successful and have an accomplished career.
She graduated cum laude from Huston-Tillotson College in 1956 with a degree in commercial education. She started her career as a teacher, but quickly shifted to working as an administrative assistant for various organizations. These included her alma mater and a Texas labor union, before she moved to Washington D.C. Her move to Washington D.C. in 1961 would propel her to new heights and opportunities to work in government offices and political roles. She served on the Committee on Equal Employment Opportunity, the U.S. Equal Employment Opportunity Commission, the Democratic National Committee, and the U.S. House District Committee.
In 1977, she earned her most impressive accolade when she was appointed by President Jimmy Carter to the role of U.S. Treasurer. Morton was the first, and remains the only, African American to hold the position.
After her stint as Treasurer, Morton stayed busy in politics and service. She was on multiple boards of directors, remained active in the Democratic party, and made additional contributions to the community through her involvement in her church, a bookstore she owned, and other organizations. Today, a street in Austin is named after her, and her legacy lives on in Texas and across the country.
She came a long way from her challenging circumstances to the role of Treasurer. And without a doubt, her own efforts and dedication were the reasons why. She once said, "You have to earn your success and put forth maximum effort to achieve it," and expressed the hope that "the day will come when individuals elected or appointed to public office will be described by their qualifications and character, with no indication of gender, color, national origin, or religion. When such a day arrives, the United States will have achieved true maturity as a nation."
The Role of U.S. Treasurer
Morton was the 36th Treasurer of the United States, and she served from September 12, 1977 to January 20, 1981. As treasurer, Morton's signature appeared on currency. She reported directly to the Secretary of the Treasury. The Secretary of the Treasury is considered to be the president's top economic adviser. During her tenure, there were two treasury secretaries, W. Michael Blumenthal, and G. William Miller.
The role of Treasurer has changed significantly over time. As the U.S. Department of the Treasury explains, the role of Treasurer is older than the Treasury Department itself. Today, the Treasurer oversees the U.S. Mint (which produces coins), oversees the Bureau of Engraving and Printing (which produces dollars), oversees Fort Knox (where the Treasury stores gold and other precious metals), oversees the Treasury's Office of Consumer Policy, serves as a liaison with the Federal Reserve, and advises the Treasury Secretary.
That is an impressive list of responsibilities. For example, imagine having your name printed on U.S. currency, and overseeing the departments that make the currency. Without a doubt, that is both a significant job and honor. But while those particular tasks may sound like the most important or interesting, a few of the Treasurer's other duties may be more important now than ever.
Overseeing the Office of Consumer Policy and advising the Secretary of the Treasury provide the Treasurer with opportunities to influence policy, to highlight important areas of concern and make suggestions to address the unmet financial needs of many Americans. In fact, the Office of Consumer Policy has been doing significant work in the areas of financial literacy and financial security. On top of these formal job roles, the Treasurer is also an informal "ambassador" to communities in need.
It's through these roles that the Treasurer can create change for communities in need. As we have highlighted in articles about Maggie Walker and Richard Wright, there is significant need for improved financial literacy and economic opportunities for people of color. With black homeownership rates lagging behind, and many African Americans' lived experiences falling outside of the traditional financial literacy paradigms, much more work needs to be done. Thanks to the expanded role of the U.S. Treasurer today, the position will continue to play a vital part in creating progress and lasting solutions in these areas.
Tuesday February 22, 2022
/