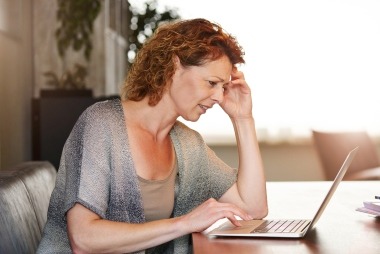 Q. My husband and I have a credit card together. I just found out that he has been using the card and there's a large amount due. He is filing for bankruptcy. We have no other cards together or other accounts together. I can't afford to pay the minimum requirement on the card. He has just started the bankruptcy process; I did not file. Do I have any options to keep this from really hurting my credit? Should I call the credit card company or wait until his bankruptcy is finished?
Dear reader,
Thank you for reaching out. Sometimes it is difficult to provide very specific answers when I don't have all of the details about the situation, but I will do my best. Typically, when one spouse files for bankruptcy, the other's credit should not be affected. But, when there's a joint credit card account, the non-filing account owner can become responsible for the debt.

In fact, it's very likely that creditors will pursue you to collect the debt. So, although your husband's bankruptcy does not affect your credit report directly, the outstanding balance on your joint account will. To minimize damage to your credit, you should focus on reducing and paying off that debt. A good starting point is to contact the credit card and explain the situation. Ideally, you can work out a realistic repayment plan before you and your husband start missing payments. As you know, missed or late payments will affect your credit. It's likely that creditors will work with you if you've had a good history of on-time payments with them. Sometimes, they can offer you reduced interest rates or help you pay in installments. It all depends on your creditor and what you are able to negotiate. But, please note, that these types of agreements usually require you to close the account, which will have a negative impact on your credit. But, it can be less damaging than if you were to let your account default.

Not all creditors are willing to help out at first. Be persistent, talk to different customer representatives if necessary, and send letters to document your situation. Also, always make sure you get any answers or agreements in writing. If you don't feel comfortable working directly with your creditor, I suggest you talk to an NFCC-certified credit counselor to help you deal with your creditor or explore additional options you may have to repay the credit card. They can objectively review your overall financial situation and help you find the best repayment strategies and minimize the damage to your credit.

Since bankruptcies have become overly complex over the years, talk to a trusted bankruptcy attorney. You need to understand how your husband's bankruptcy can affect you and any joint property you may have. The extent on how you are affected depends on what type of bankruptcy your husband is filling, Chapter 7 or 13, and the common property laws of the state you reside in. Bankruptcies, under the right circumstances, give debtors a chance for a new beginning, but they may affect non-filing spouses in different ways. I hope that you get the best advice you can get and talk to a certified credit counselor to get ready for the upcoming challenge. Good luck!

Sincerely,
Bruce McClary, Vice President of Communications

Bruce McClary is the Vice President of Communications for the National Foundation for Credit Counseling® (NFCC®). Based in Washington, D.C., he provides marketing and media relations support for the NFCC and its member agencies serving all 50 states and Puerto Rico. Bruce is considered a subject matter expert and interfaces with the national media, serving as a primary representative for the organization. He has been a featured financial expert for the nation's top news outlets, including USA Today, MSNBC, NBC News, The New York Times, the Wall Street Journal, CNN, MarketWatch, Fox Business, and hundreds of local media outlets from coast to coast.

*Some questions have been shortened and/or altered for publication purposes while others have been published as is.
/