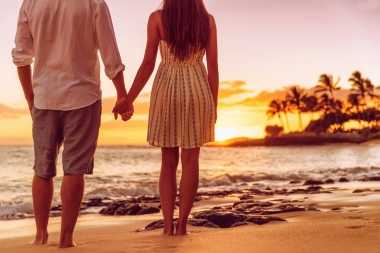 You've tied the knot and returned from your honeymoon – what a whirlwind! Congratulations on joining your lives; now, it's time to do the same with your finances.

It's well-known that money is one of the most common hindrances on marriage. We know you're going to do just fine and live a happy life together – so instead of discussing what can go wrong, let's talk about what you can do right. Follow these five steps to make your marriage sound and successful financially.

Talk About It
You should already have a general understanding of your partner's finances. Maybe the two of you had the money talk prior to getting married. Or, perhaps you had been together long enough to know and feel comfortable with each other's spending habits minus the sit-down conversation. Regardless, it's time now to put it all out there for both of you to see.

Review and understand your separate credit reports, write out your monthly expenses, identify opportunities to save (possibly to buy a home), and address any potential rifts before they become bigger issues. Also use this opportunity to discuss your financial future together. Where do you see yourselves living? Will you own a home? What is the earning potential in your careers? Most importantly, how will you work–individually and as a couple–toward your goals?

Pay Down Debt
If you are stressed about debt as a newlywed, you're not alone. Whether from student loans, credit cards, or the wedding itself, each of you should make a strong push to become debt-free. Depending on the amount of debt you have, it can take time – that's okay. Stay the course, make monthly payments, and avoid accumulating new debt. A debt coach can provide guidance for getting out of debt and work with creditors on your behalf to minimize collections and fees.

Taking charge of your debt will in turn help to improve your credit score. If you and your partner have any desire to buy a home in the foreseeable future, building your credit is crucial. The higher your credit score, the better terms you will receive on a mortgage loan, such as a lower down payment and lower interest rate. Ideally, you want your credit score to be above 700 when applying for a mortgage. The mid to upper 600s are presentable, but not as favorable.

Establish a Plan
Paying off debt is only one aspect of a holistic financial plan. Now that you are merging your finances, outline who will pay for which expenses, how much each of you will commit to saving, and how you can help each other remain stable financially. For example, if one partner earns slightly more than the other, the partner with the higher salary might pay slightly more in rent. Or, one partner might pay the entire rent, while the other covers all other expenses. Every couple has their own formula for making money work.

Arrange Your Accounts
Some couples choose to keep their own separate bank accounts. There is nothing wrong with that, however, a joint account can really simplify things. It also carries symbolic weight and reaffirms your support for each other. If you're not sure whether to keep your accounts separate or open a joint account, you might consider doing both. You can keep the individual accounts you currently have and contribute a portion of your income to a joint account.

The main benefit of a joint bank account is that both partners can easily see and predict what money is coming in and going out at all times. For couples with a large discrepancy in income, it can also allow you to live more freely, without having to worry about one partner not being able to afford the lifestyle of the other. If either or both of you are not comfortable with a joint account, don't force it. Some couples simply like to keep some financial independence.

Talk About it (More and Often)
We'll finish where we started, because managing your finances in marriage is an ongoing conversation. You may decide after the first few months to loosen or strengthen your communication involving money. For example, many couples set a threshold for notifying each other of purchases to minimize the money discussions. Meanwhile, others take comfort in sitting down at the end of the month to "balance the checkbooks" in traditional fashion. It's all a matter of what works best for you and your partner. As long as you are both aware of how money is being managed and to what extent it is being shared, you will be on the path to a money-savvy marriage.
About the author:
Melinda Opperman is an exceptional educator who lives and breathes the creation and implementation of innovate ways to motivate and educate community members and students about financial literacy. Melinda joined credit.org in 2003 and has over 19 years experience in the industry. Credit.org is a nonprofit financial counseling agency specializing in Debt Management Plans and helping people get out of debt.
/