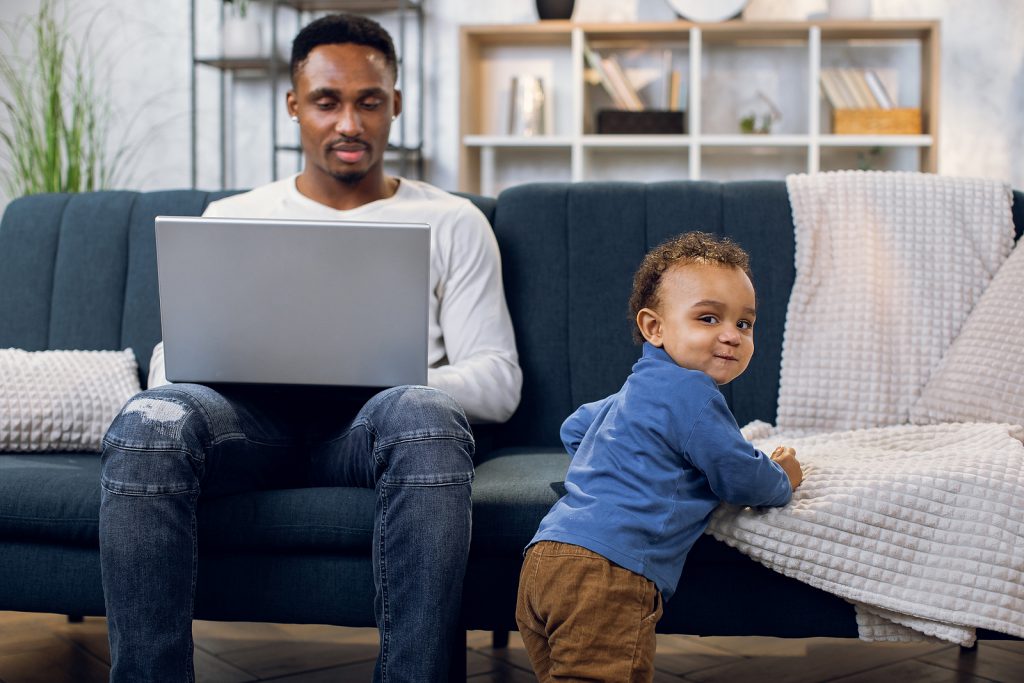 Children bring endless joy and meaning into our lives, but the costs of raising them can certainly feel overwhelming. According to the U.S. Department of Agriculture (USDA), the average cost of raising a child through age 17 is a whopping $233,610 — not including college tuition.  
It's no wonder, then, that an Experian study found parents had more debt than their child-free counterparts, and (unsurprisingly) that number increased with each additional kid. Though housing and food round out the top two expenses in the USDA study, child care and education came in third, accounting for 16% of the cost for middle-income families. 
According to Care.com, more than 50% of parents spent more than $10,000 on child care in 2020 — an anxiety-inducing amount for any parent reviewing their budget. But all hope is not lost. Here are some tips for working parents in the search of ways to reduce the burden of child care — which will hopefully help you save enough money to start dialing down those debts.
Delve into your DCFSA
A DCFSA, or Dependent Care Flexible Spending Account, is a benefit that may be available through your employer that can help you save money for child care costs.
Because the account is funded with pre-tax money and you don't pay taxes when you withdraw it to spend on eligible expenses, a DCFSA can help cut down on overall costs. 
Of course, there are limitations and restrictions on a DCFSA; only certain costs qualify, and there is a cap on how much money you can set aside in the account. (In 2021, the limit was temporarily increased to $5,250 for single parents and $10,500 for parents filing jointly as part of the American Rescue Plan Act, but those numbers are usually $2,500 and $5,000, respectively.) 
Keep in mind, too, that you may not be able to claim the dependent care tax credit if you contribute to a DCFSA. It's worth sitting down with your company's HR representative to learn more about whether or not you qualify for an FSA and how much you might stand to save by contributing to one.
Host an au pair 
An au pair — which translates to "on par" in French — is a full-time live-in nanny from overseas, which may sound like something only the wealthiest parents could afford. But as long as you have the spare room to host an au pair, these programs can be surprisingly affordable; the annual au pair fee for one of the most popular au pair programs is less than $10,000, though this doesn't include all associated expenses. 
Consider your location
Although the cost of child care is expensive no matter where you live, it's true that location matters: The basic annual expenses to raise a child, per a recent study, add up to a breathtaking $28,785 in the District of Columbia, but only $13,596 in Mississippi. 
Obviously, moving comes with its own costs, both financially and otherwise. But if it's feasible for your family, choosing an inexpensive place to live could save you thousands of dollars over your lifetime. 
Consider a nanny share
If the idea of hiring a full-time nanny for yourself sounds a little out of reach, you might consider joining a nanny share, which is exactly what it sounds like: you and at least one other family share the services of a single nanny. All of the children are looked after together at once, which also gives your kids more opportunities to play and socialize. 
There are, of course, some important factors to keep in mind if you take this route; it's important that all sets of parents have similar expectations of the caretaker, and you'll also have to arrange a suitable schedule that works for all the families. Along with simply talking to local families to see if anyone's interested, there are also online platforms to match families with nanny shares.
Trade child care with local friends and family
If you're lucky enough to have willing family and friends nearby — especially ones who also have children — consider setting up a schedule for trading babysitting services amongst yourselves. That way, the kids all get to hang out together and you get to exchange time, rather than money, for child care.
Avoid using a credit card to cover child care expenses
As tempting as it may be to throw those extra expenses on your charge card, keep in mind that compounding interest means you could end up paying way more than the initial price tag if you can't pay the card down each and every month. 
Additionally, using up too much charge can harm your credit utilization ratio, which is one of the factors credit bureaus use to compute your credit score. 
Discuss flexible work arrangements with your employer
If there was one good thing that came of the pandemic, it's that more employers than ever are open to flexible schedules and at least part-time remote work — which can be a boon for parents. 
Although young children require the kind of attentive care that can't be combined with most day jobs, if your kids are older and you just need to be around to pick them up after school (or in case of an emergency), flexibility in your job can help you avoid paying someone else to watch them.
Having kids brings so much fullness to our lives — and with some careful planning and rearranging, we don't have to empty out our wallets to be parents.
Thursday December 9, 2021
/