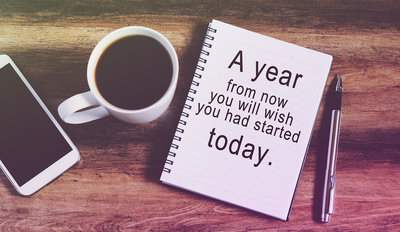 By Meredith Wood
When you decide to start your own business, you're taking a big step into exciting, new (and overwhelming) territory. While small business ownership can be thrilling and life-changing, only 30% of companies survive their 10th year. But you're not scared—you welcome the challenge.
You don't plan on surviving—you plan on thriving. To achieve that level of success, you need to make sure your business is running right from the start. Here's a handy checklist to ensure you have all your bases covered:
1. Get yourself a name, website, and logo
Naming your company doesn't necessarily have to be the first thing you do, but it's one of the most important steps in starting a business. Surprisingly, it can be more complicated than it seems.
Registering a website domain and creating a logo aren't exactly a walk in the park. From finding an available domain to effectively articulating your brand identity, you must be thorough. Your name, website, and logo will in many ways determine your market and influence your overall success.
As the Forbes Agency Council states, your name "creates an image of the brand in the mind of potential customers, it shares the idea of what the company or service is about, and it's the most important keyword for internet searches." You can't expect to attract high-end clients with a cheap logo, for example.
2. Carefully oversee legal and financial setup
Take all necessary steps to be sure your paperwork is in order. While the details may vary based on your location, industry, and business structure, the general process is similar for all new business owners.
Here are the most common legal and financial tasks you need to complete:
Obtain business licenses and permits: Check local and state government websites. Depending on your business, you may need a special permit. For instance, if you're starting a mobile food business, a food service permit is required, and you'll have to learn about zoning and parking restrictions.
Open a business bank account: Don't mix personal and business funds (even if you're personally funding your venture). This is never a good idea, and it makes managing your finances unnecessarily confusing.
Choose your business structure: Since a limited liability company (LLC) provides tax flexibility, it's the default choice for many small businesses. But you should consider your future goals. If you plan on growing your business significantly, then electing to be an S corporation could be a good choice.
Word of friendly advice? Unless you're a sole proprietor, don't do the taxes yourself—it's not worth the risk. Get an accountant who can assist with taxes and help you create the right budgeting strategy. You should also consider enlisting the help of a reliable attorney who can help you with contracts and SOWs.
3. Figure out how you stand out
You're not going to succeed if you don't bring value to your customers. While you probably have a clear idea of what your business will do for folks, you need to think about what the competition is already doing and how you can set yourself apart.
For example, Sequoia, among the world's most successful venture capital firms, recommends that business owners "define the company/business in a single declarative sentence." If you can't do that, then your positioning is off, and your marketing isn't targeted.
You should also perform market analysis and look at your target market's size, the current competition, and your advantages. Try to figure out how much market share you could potentially win.
4. Write a business plan
The Small Business Administration (SBA) says that a business plan should serve as your "essential roadmap for business success."
Because you've already figured out how your business differentiates itself from the competition, some of the legwork for writing a business plan has already been done. Now you need to outline a general marketing and sales strategy in a way that's easy for business stakeholders and future funders to understand.
A business plan should consist of the following:
Executive summary: A snapshot of your company
Company description: Highlight what you do and how you stand out.
Market analysis: Provide research on your industry and main competition
Organization/management: Show how your business is structured and run
Strategy: Discuss marketing and sales strategies and your product or service line
Financials: Talk about funding needs and projections if you're looking for capital.
A well-written business plan is absolutely required if you want to pitch to potential investors, and it will help you develop a clear strategy and roadmap during the early stages of your operation.
5. Gather sufficient capital
A whopping 82% of small businesses fail due to issues with money management. So before you start, make sure you have enough funds to give your business a real chance at success.
From opening a business line of credit to applying for traditional bank loans and SBA loans, there are many ways to finance your startup. Even if you have bad credit, there are several options, including business credit cards, crowdfunding, loans from local banks, and more.
When you begin looking for capital, keep an open mind. Explore all your options and see what makes the most sense for your current financial situation and future goals.
6. Network and find guidance
Once you have all the legal and financial details in order, it's time to get out there and find customers, partners, and mentors.
No successful business is an island. It's important for new business owners to network and seek help. Getting guidance from other experienced business owners will help you grow your business sustainably, and you'll make valuable professional connections that could last a lifetime.
No matter where you live, you can find local groups to meet other entrepreneurs and get assistance. For example, the SBA offers free counseling on running a business at its various centers across the United States. Even Meetup has several groups just for business owners.
Start checking off that list
If you're a new business owner, make sure you check off every item on this list before you take that leap of faith. And if you're already a business owner, make sure you haven't missed anything. Get out there and stay flexible and adaptable. Success comes to those who are ready for anything.
About the Author:
Meredith Wood is Editor-in-Chief at Fundera. Specializing in financial advice for small business owners, Meredith is a current and past contributor to Yahoo!, Amex OPEN Forum, Fox Business, SCORE, AllBusiness and more.
/