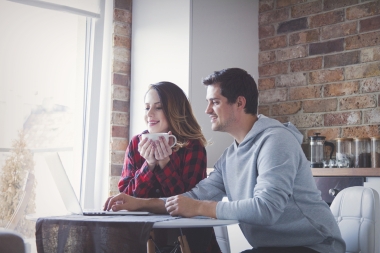 No one plans to fall into student loan delinquency but with 44.2 million borrowers and an 11.2% delinquency rate, we know that millions of us do. There are some simple strategies you can take to put yourself in the best position to keep your student loans current and reach your ultimate goal of paying those bad boys off.
1. If you are still in school or recently graduated, understand your grace period.
The grace period is an amount of time given to individuals who have graduated, left school, or who have dropped below half-time enrollment. Most student loans have a six month grace period. During this time, you are not required to make payments (but if you can—do it!). Interest is building on your loan during your grace period. Most importantly, mark your calendar and be prepared for your first payment.
2. Understand your budget and how the student loan payment fits in. (This should really be one because it's the foundation of keeping your loans current!)
I know, the word budget often conjures images of sitting alone in a dark room, stressed and doing math. I'm here to tell you, it doesn't have to be that way! Budgeting can be enjoyable and empowering if you follow these steps:
Track your spending for a month. Grab a cool notebook that fits in your pocket or purse and write every purchase down. Or go digital and use your notes section in your phone or an app that can link up to your bank account. If you do all your spending on one card, you can even use your statement as a tracking tool (just be sure you don't forget about any cash/check purchases).
Armed with an accurate account of your spending, set aside a time to organize your budget. Turn on your favorite tunes, grab some popcorn and find a comfortable spot where you can focus. Using a template (an excel spreadsheet, this one from Apprisen, or another one of your choice) organize your spending into categories & compare it to your income. If your expenses exceed your income, it's time to make some cuts.
Identify areas where your spending doesn't match your values or financial goals. Surprised by how much you are spending at restaurants/bars? Shocked by your clothing expenditures? Take note of spending that is unintentional. Don't be afraid to treat yo' self but make sure you are doing it in a thoughtful way and making room for the priorities (like paying down your student loans).
3. Consider what options you have for paying down your student loan debt.
There are a variety of repayment plans that you may qualify for. Check out repayment options and determine which one fits best with your current financial situation and goals. Keep in mind, even if you are paying less, the interest continues to accrue and it will extend your repayment period. Obviously, if you have room in your budget to pay more than the contractual payment, make that happen so you can be student debt free ASAP!
4. Reach out to a non-profit that can help you understand your options, if they seem overwhelming or you simply have questions.
Many NFCC members, including Apprisen, offer free student loan counseling where you can talk one-on-one with a financial specialist who can answer your questions and assist you in reaching out to your servicer to set up a repayment plan.
5. If you are experiencing a temporary hardship, reach out to your servicer!
The more communication the better. Let them know what is going on and ask what options are available to you. Ignoring the issue and falling into delinquency will only add stress to your situation.
It's important to follow these strategies (& any others that work for you) to ensure you are current on your student loans. Delinquency can have serious repercussions including negative impacts on your credit score and garnishment (even your social security can be garnished for student loan payments). Take the time to plan for your student loan repayment today and set yourself up for a debt free tomorrow! Need help? Reach out to an NFCC certified student loan counselor today.

About the author: Natasha Bishop is the Director of Operations and Development at Apprisen, an NFCC member agency helping people improve their financial well-being through counseling, community outreach & financial education.
/