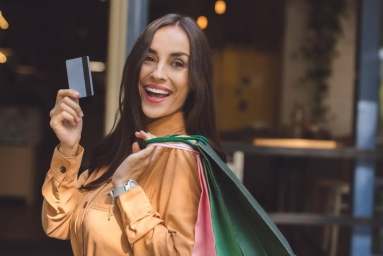 Whether you're tackling your holiday shopping in-store or online, chances are good you'll be offered at least a few store credit cards this season. And those offers can be extremely tempting, full of alluring words like "20% off," "free shipping," and, perhaps the most appealing of all, "0% financing."
 
But, as attractive as these offers can be, store credit cards aren't always the innocent beacons of savings that their ads seem to indicate. Beneath those shiny discounts and come-hither financing deals are heaps of restrictions and limitations — and the ticking time bomb of deferred interest.
 
Reading the Store Card Fine Print
 
Although the clerk's sales pitch can often make a store credit card seem like too good a deal to pass up, you may want to take a minute to read the fine print before signing on that dotted (or digital) line. That's because store credit cards are a whole different beast from your typical card, particularly the closed-loop store cards that lack a major network logo.
 
Basically, closed-loop store cards are credit cards that can only be used to make purchases with specific retailers. For example, the closed-loop Kohl's Charge Card can only be used to make Kohl's purchases — and nothing else.
 
What's more, closed-loop store cards also tend to have closed-loop rewards, meaning the rewards you earn can only be used with that retailer. So, if you earn $20 in rewards with your closed-loop Best Buy store credit card, you can only use that $20 for Best Buy purchases.
 
The Real Cost of Store Cards
 
Another thing you'll notice right off when investigating a store card is the APR. The majority of store credit cards have extremely high APRs — higher even than many subprime credit cards, in fact. Interest rates above 25% are common for store cards, and those high rates can turn a great deal into an expensive mistake.
 
And don't mistake the 0% financing deals offered by many store cards for the low-interest offers commonly found on many regular credit cards. Nearly all store credit card financing deals use deferred interest, a fact not always disclosed by clerks eager for a new signup and the associated sales.
 
In essence, offers with deferred interest require you to pay off your entire financed amount before the end of the promotional period. If you have even so much as a penny left to pay off after the promotional period expires, you'll be charged interest on the full amount you financed, not just the part you have left to repay.
 
The Credit Impacts of New Store Cards
 
The last big consideration before signing up for a new store credit card is the potential impacts to your credit profile. Each new credit card application means a hard credit inquiry on your credit reports. While one or two hard inquiries won't ruin your credit score, a series of inquiries from a spate of holiday store card sign-ups can have more serious impacts to your credit scores.
 
You should also keep in mind that credit cards often tempt us to spend more than we intend. If you think signing up for a store credit card will cause you to spend more than you can pay off that month, just say "no." The low limits of most store cards mean carrying even a small balance can hurt your utilization rates and, thus, lower your credit scores.

About the Author: Adam West is the Managing Editor for BadCredit.org and CardRates.com, where he regularly coordinates with financial experts and industry movers and shakers to report the latest information, news, and advice on topics related to helping borrowers achieve greater financial literacy and improved credit scores.

/