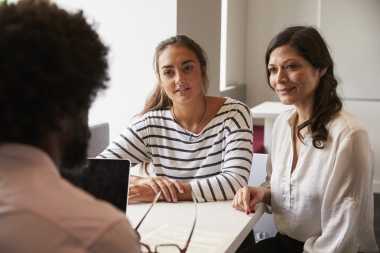 Q. My daughter owes about $15,000 in student loan debt. She is physically disabled. She works only part-time for a 501c3 organization. How can she best receive counseling for repayment and/or forgiveness on her student loan debt?
Dear reader,
The best way for your daughter to receive the student loan counseling she needs is to talk to a specialized NFCC- certified credit counselor or to a credit counselor in your community. Student loan counseling at nonprofit agencies fees may vary, ranging from $50–$200, and you can either make an appointment to talk to the counselor over the phone, online or in person. Whatever is more convenient for your daughter.
Once you make an appointment, your daughter should be prepared to make the most of the session, which typically runs for about an hour. Have your daughter organize and collect all her financial documents, like her paystubs, student loan statements, any credit card or loan statements, and details about her monthly expenses. She should also bring any relevant and official documents about her disability since there may be specific forgiveness programs for disabled people. During her counseling session, the counselor will thoroughly review her financial situation, develop a budget and, depending on the types of loans she has, identify the repayment and forgiveness programs she may qualify for.
Federal student loans holders typically have more repayment and forgiveness programs available than private student loan holders. For instance, if your daughter has specific federal loans such as Direct Loans and Federal Perking Loans she could be eligible to apply to a total and permanent disability (TPD) discharge. To apply, your daughter would have to meet the requirements to be considered totally and permanently disabled by the U.S. Department of Education standards and go through the application process. Just like this one, there are programs based on income such as the Forgiveness with Income-Based Repayments and Forgiveness with Pay As You Earn, and other programs are based on profession, public service or place of employment, like a nonprofit. Typically, a requirement of these programs is that the loan holder should be a full-time employee.
If your daughter has private loans, the repayment programs will vary by lender. Some can offer forbearance, refinancing programs to reduce payments or consolidation options. But, these lenders are not required by law to offer many of these programs. Even if that's the case, the role of the credit counselor is to help your daughter identify the programs she may qualify for and guide her through the application processes while educating her in what to expect each step of the way. There are plenty of options to help her manage her student debt. Enlisting the right kind of help is important and an NFCC-certified credit counselor is ready to help. Make an appointment and do your own research online here. Help is one phone call away. Best of luck to both of you.
Sincerely, 
Bruce McClary, Vice President of Communications
Bruce McClary is the Vice President of Communications for the National Foundation for Credit Counseling® (NFCC®). Based in Washington, D.C., he provides marketing and media relations support for the NFCC and its member agencies serving all 50 states and Puerto Rico. Bruce is considered a subject matter expert and interfaces with the national media, serving as a primary representative for the organization. He has been a featured financial expert for the nation's top news outlets, including USA Today, MSNBC, NBC News, The New York Times, the Wall Street Journal, CNN, MarketWatch, Fox Business, and hundreds of local media outlets from coast to coast.
*Some questions have been shortened and/or altered for publication purposes while others have been published as is.
/