Join Our Spooky Halloween #SMALLBIZMONEY Twitter Chat Wednesday, October 31 AT 2PM ET FOR A CHANCE TO WIN PRIZES!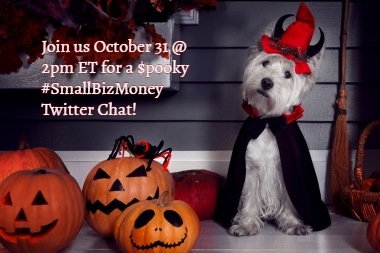 Follow #SmallBizMoney as we discuss how to establish a business credit profile and general credit awareness for Small Business Owners in honor of Credit Awareness Month! 
Did you know your small business likely has a credit score of its own? Spooky, we know! If not, do you know how to establish a small business credit profile? Paying bills late can be dangerous for your credit. Join us for a Spooky Halloween Twitter Chat as we share tricks and treats for your small business credit!
Make plans to join our #SmallBizMoney Twitter Chat on
Wednesday, October 31 AT 2PM ET. There will be 3 prizes given to those who RSVP below and participate in the chat! 
 1-$25 Amazon gift card
2-$25 Amazon gift card
3- $25 Amazon gift card
Use #SmallBizMoney to participate.
For an easy way to keep track of the conversation, try using our

 

tchat.io chatroom.
Questions we'll discuss:
When does a small business begin to establish credit?
How do you find out if your small business has data on a credit report and a credit score?
What are the differences between a personal and business credit score?
Is it ok to use personal credit cards or loans to fund a small business?
What are the advantages of keeping business credit and personal credit separate?
What is factored into a business credit score?
What is considered a good business credit score?
Who can request and view my business credit report and score?
How much credit should a small business have available?
What tips and tricks do you have for improving business credit scores?
Anyone can participate, but you must be following @NFCC and RSVP below to win our prizes! 
Winner must be a US resident 18 or older.  No purchase necessary. Winners are randomly selected and announced within 1 day of the chat.  
To make it easier for us to keep track of attendees and pick our winners, please RSVP below with your twitter handle and email address. Winners will be selected at random from RSVPs.  If a winner is chosen who RSVPed but did not attend a second winner will be chosen.
*Indicates required field
[gravityform id="1″ title="false" description="false"]