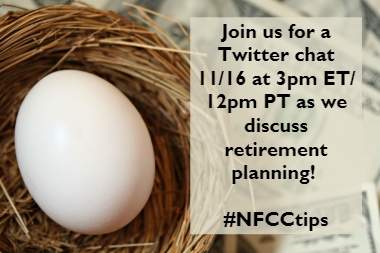 JOIN @NFCC for OUR #NFCCtips chat ON Friday, November 16
th

 AT 3PM ET FOR A CHANCE TO WIN PRIZES!

Follow #NFCCtips as we discuss retirement planning findings from our 2018 Financial Literacy Survey and tips to prepare for retirement!

There will be 2 chances to win an Amazon gift card!

1-$25 Amazon gift card

2-$25 Amazon gift card

Use #NFCCtips to participate.

For an easy way to keep track of the conversation, try using our tchat.io chatroom.

Questions we'll discuss:
When should you start saving for retirement?
Should you opt-in to retirement savings if you are in debt?
What's the difference between a 401k, 403b and an IRA?
What is a 401(k)-matching program? How can I get involved?
Are there any tax benefits to saving for retirement?
How can someone know if they are on track with their retirement savings?
What are three easy tips to boosting retirement savings?
Can I just plan to live on social security?
What can baby boomers who aren't ready financially do to get as ready as possible?
Are there resources for those approaching retirement with little to no funds saved?
Who should I contact if I have any questions about saving for retirement?
With all the stock market's ups and downs, how do I know I'm investing in the right things?
Anyone can participate, but you must be following @NFCC and RSVP below to win our prizes! 
Winner must be a US resident 18 or older.  No purchase necessary. Winners are randomly selected and announced within 1 day of the chat.  
To make it easier for us to keep track of attendees and pick our winners, please RSVP below with your twitter handle and email address. Winners will be selected at random from RSVPs.  If a winner is chosen who RSVPed but did not attend a second winner will be chosen.
*Indicates required field
[gravityform id="1″ title="false" description="false"]