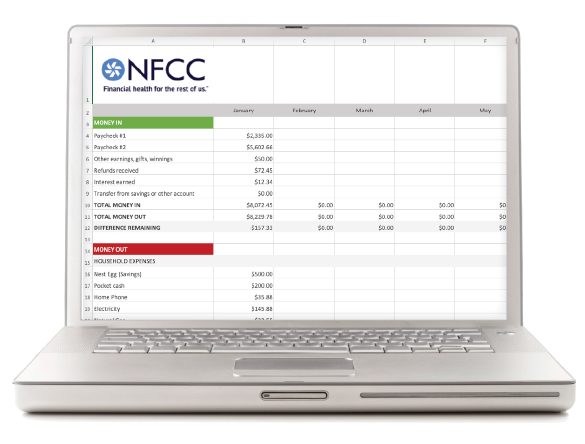 Tracking your monthly personal budget and household expenses shouldn't require a finance degree. That's why we created this free budget template that allows you to balance your budget and spend within your means each month. The budget template (available below as a Microsoft Excel spreadsheet) simplifies creating a budget using our unique "Money In, Money Out" strategy. This strategy is the result of helping thousands of people like you fix their credit each year and escape the heavy burden of debt that, frankly, stresses everybody out.

Money In, Money Out

There are 180 known currencies in the world, but only two types of money: money coming in (income) and money going out (expenses). Most budget templates only track your paycheck as money coming in, but we know that's not realistic. The fact is, we have a variety of income sources each month, and it's crucial to track every dollar. Money Out is where this spreadsheet holds all the power to balance your budget. The Money Out section of the spreadsheet tells you when you've spent beyond your income. This is important, because forgotten or overlooked expenses can chip away at your income – and it can add up. When you can see how your Money In and Money Out is balanced, you have the power to reduce the stress associated with debt, bad credit, and the trouble that comes with living beyond your means.

Track Your Money In

Income is not only your paycheck; it's anything you received in the calendar month, including:
Refunds for items purchased the previous month (this does not include refunds already applied to your credit cards.)
Cash gifts received for birthdays, Christmas, Hanukkah, or being named "Employee of the Month."
Gift cards received are as good as cash, so include them as Money In.
Winnings from gambling, which includes that card game with your friends and bets places on the big game
Help from the parents, such as $200 given to you for car repairs. Include it as a gift.
Loans are tricky; they can be counted as Money In and Money Out. If you have a $10,000 line of credit from your mortgage and take $2,000 of it for a vacation, include $2,000 as Money In, but include the debt repayment as Money Out as you are repaying it.
Include interest earned from your checking or money market bank account or any other interest that is yours to spend.
Important: Only include money in your possession from the calendar month you are budgeting for. This is money available to be spent.
Great work! Once you've added these items in the Money In section of the free budget template, you should have a clear view of the money you can spend during the month. On to the next step.

Tracking Your Money Out

Money Out is just that, money that you're spending on bills, food, Uber, Spotify, concert tickets, gasoline and more. Even the cash in your pocket is going to be spent, but let's not go crazy. Documenting every nickel and dime expense for cash spending is too tedious, so in this budget template cash is not itemized, it's just a sum of "cash" that goes into your wallet each month for pocket expenses.
Complete the spreadsheet with all of your household expenses in the Money Out section, including:
Nest Egg (Savings) You might not think of saving money as Money Out, but it is. You're taking money from your Money In section, and you're putting the money into a savings account (hopefully interest-earning). It's an expense because you can't use that money to pay for any other expense.
Wishlist can be a traditional savings account where you are saving up money for something special, such as a new iPad or vacation.
Monthly bills that include electric, mortgage or rent, NetFlix, landscaping, phone, or anything that comes in the mail as a monthly bill, should be added to the month when the bill was received, not the date of services.
Loan payments should be added to the budget month when the payment is due.
Credit card bills may include items like NetFlix, Pandora, or Uber. Only list these once on your spreadsheet, meaning a NetFlix charge to your credit card can be listed as NetFlix or credit card, but not both.
Why NFCC recommends budgeting for the month

We put Money Out nearly every day, even if it's just a few dollars for lunch or gas in the car. But Money In happens less often, typically on payday, which may be weekly, bi-weekly, or monthly for some. For this reason, we recommend blocking your budget into months. This blocking is done to ensure that you set boundaries on how you collect and spend your Money In. For example, if you use your January Money In to fill up your gas tank on January 31st, you have basically paid for February's gas with January's money. Use the calendar month as boundaries for your Money In and Money Out. Another example comes from one of our credit counseling clients who forgot to pay the electric bill she received in October and instead paid it in November. When the November electric bill arrived, she paid it on time – also in November. Unfortunately, her November budget didn't allow for two electric bills to be paid, so she overspent her budget in November. This can all be avoided by fixing your income and expenses to a single calendar month.

Trimming the fat in your spending habits is the last step

Once your Money In and Money Out has been added to the spreadsheet, there may be some fine-tuning to do. Look at the "Difference Remaining" row, which shows the difference between your spending and income. Did you overspend, or do you have money remaining? This is where the budget template really earns its high marks from our clients.

If your Money In is higher than Money Out…

Good news! Your Money In is higher than your Money Out. This means you earned more than you spent, and you can decide what to do with the remaining money. Using the spreadsheet, you may choose to increase your credit card payment, increase your payment on loans, or increase the money put into savings. Financial experts at NFCC agree you should prioritize a higher payment against any debt that includes additional interest. Pay the additional money on the debt with the highest interest rate first (often credit cards which, can be 14% to 24% interest.) As you add the additional payment in the spreadsheet, watch the Difference Remaining row automatically recalculate to show how the additional spending impacts your budget.

If your Money Out is higher than Money In…

Unfortunately, your current expenses are greater than your income. If this is allowed to happen, you may find yourself sinking further into debt. You're not alone, however. Call us! We have world-class credit councilors that are just minutes away from helping you. In the meantime, look for areas in your budget where you can begin reducing your costs. Here are some tips:
Look at your cash line item. Can you get by with less pocket cash this month? Reduce that cash expense by 20% or more.
Seasonal renewals hit your credit card when you least expect it. Check your credit card bill for any seasonal renewal items you didn't want, such as that NFL Football Season Pass on Direct TV. Call your cable TV provider as ask for a refund before it's too late.
Look for extra income by hosting a garage sale, picking up some more hours at work, or sell investments.
Avoid price creep by renegotiating your monthly costs on cell phones, cable TV, streaming services, or insurance costs. These costs tend to "creep" up over time, even by small amounts that vendors hope go unnoticed. One debt consolidation counseling client told us their cable TV bill went up $22.06 in the course of a year, but the service programming remained the same. Call your providers and ask them to reduce the costs or risk losing you as a customer. Many times, they will agree to reduce the price increase or postpone it.
Be prepared for next month

Don't wait for your bills to become overwhelming next month. By looking at this month's budget template, you're well prepared to make tough decisions about facing next month's Money In and Money Out. How can you prepare? Here are some ideas:

Some expenses that hit your credit card each month often go unnoticed, such as streaming services, subscriptions, and bills scheduled to charge your credit card automatically. These can quickly add up. Review your credit card statement in detail each month and cancel anything that isn't critical.
This process of continually trimming the fat in your budget keeps you in ideal financial shape and can avoid surprises when tracking your Money In and Money Out each month.

Need additional help?

Get immediate relief from credit card debt. Connect to a trusted NFCC member agency, who will be there to help you find the debt relief solution that's right for you without a loan. Contact us today.
Wednesday January 20, 2021
/